Security Express sold
15th June 1985
Page 6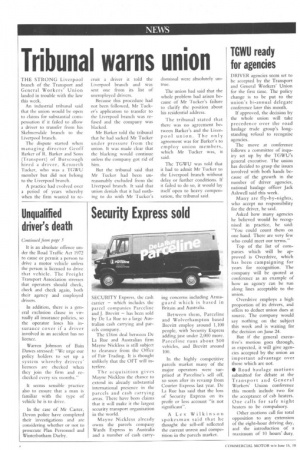 Page 6, 15th June 1985 —
Security Express sold
Close
SECURITY Express, the cash carrier — which includes the parcel companies Parceline and J. Brevitt — has been sold by De La Rue to a large Australian cash carrying and parcels company.
The E16m deal between De La Rue and Australian firm Mayne Nickless is still subject to clearance from the Office of Fair Trading. It is thought unlikely that the OFT will interfere.
The acquisition gives Mayne Nickless the chance to extend its already substantial international presence in the parcels and cash carrying areas. There have been claims that it will make it the largest security transport organisation in the world.
Mayne Nickless already owns the parcels company Wards Express in Australia and a number of cash carry ing concerns including Armaguard which is based in Britain and Australia.
Between them, Parceline and Wolverhampton based Brevitt employ around 1,100 people, with Security Express adding just under 2,000 more. Parceline runs about 500 vehicles, and Brevitt around 100.
In the highly competitive parcels market many of the major operators were surprised at Parceline's sell off, so soon after its revamp from Courier Express last year. De La Rue has said that the loss of Security Express on its profit or loss account "is not significant".
A Lex Wilkinson spokesman said that he thought the sell-off reflected the current unrest and competition in the parcels market.