TOUGHEN UP
15th June 1985
Page 56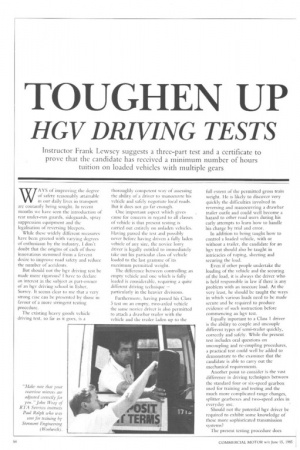 Page 57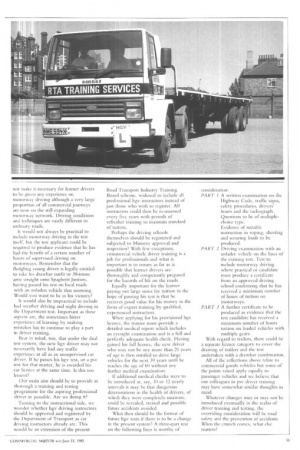 Page 56, 15th June 1985 —
TOUGHEN UP
Close
Keywords :
Car Safety
,
Large Goods Vehicle
,
Truck Driver
,
Mot Test
,
Approved Driving Instructor
,
Truck
,
Semi-trailer Truck
,
Road Traffic Safety
,
United Kingdom Driving Test
,
Driving Standards Agency
,
Education
,
Disaster / Accident
HGV DRIVING TESTS
Instructor Frank Lewsey suggests a three-part test and a certificate to prove that the candidate has received a minimum number of hours tuition on loaded vehicles with multiple gears
WA YS of improving the degree of safety reasonably attainable in our daily lives in transport are contantly being sought. In recent months we have seen the introduction of rear under-run guards, sideguards, spray suppression equipment and the legalisation of reversing bleepers.
While these widely different measures have been greeted with varying degrees of enthusiasm by the industry, I don't doubt that the origins of each of these innovations stemmed from a fervent desire to improve road safety and reduce the number of accidents.
But should not the hgv driving test be made more rigorous? I have to declare an interest in the subject as part-owner of an hgv driving school in Esher, Surrey. It seems clear to me that a very strong case can he presented by those in favour of a more stringent testing procedure.
The existing heavy goods vehicle driving test, so far as it pws, is a
thoroughly competent way of assessing the ability of a driver to manoeuvre his vehicle and safely negotiate local roads. But it does not go far enough.
One important aspect which gives cause for concern in regard to all classes of vehicle is that present testing is carried out entirely on unladen vehicles. Having passed the test and possibly never before having driven a fully laden vehicle of any size, the novice lorry driver is legally entitled to immediately take out his particular class of vehicle loaded to the last gramme of its maximum permitted weight.
The difference between controlling an empty vehicle and one which is fully loaded is considerable, requiring a quite different driving technique — particularly in the heavier divisions.
Furthermore, having passed his Class 3 test on an empty, two-axled vehicle the same novice driver is also permitted to attach a drawbar trailer with the vehicle and the trailer laden up to the full extent of the permitted gross train weight. He is likely to discover very quickly the difficulties involved in reversing and manoeuvring a drawbar trailer outfit and could well become a hazard to other road users during his early attempts to learn how to handle his charge by trial and error.
In addition to being taught how to control a loaded vehicle, with or without a trader, the candidate for an hgv test should also be taught in intricacies of roping, sheeting and securing the load.
Even if other people undertake the loading of the vehicle and the securing of the load, it is always the driver who is held responsible in law if there is any problem with an insecure load. At the very least, he should be taught the ways in which various loads need to be made secure and be required to produce evidence of such instruction before commencing an hgv test.
Equally inportant to a Class 1 driver is the ability to couple and uncouple different types of semi-trailer quickly, correctly and safely. While the present test includes oral questions on uncoupling and re-coupling procedures, a practical test could well be added to demonstrate to the examiner that the candidate is able to carry out the mechanical requirements.
Another point to consider is the vast difference in driving techniques between the standard four or six-speed gearbox used for training and testing and the much more complicated range changes, splitter gearboxes and two-speed axles in everyday use.
Should not the potential hgv driver be required to exhibit some knowledge of these more sophisticated transmission systems?
The present testing procedure does not make it necessary for learner drivers to be given any experience on motorway driving although a very large proportion of all commercial journeys are now on the still expanding motorway network. Driving conditions and techniques are vastly different to ordinary roads.
lt would not always be practical to include motorway driving in the test itself, but the test applicant could be required to produce evidence that he has had the benefit of a certain number of hours of supervised driving on motorways. Remember that the fledgling young driver is legally entitled to take his drawbar outfit or 38-tonne • artic straight onto Spaghetti juntion, having passed his test on local roads with an unladen vehicle that morning. Would you want to be in his vicinity?
It would also be impractical to include had weather driving and night driving in the Department test. Important as these aspects are, the sometimes bitter experience of learning by making mistakes has to continue to play a part in driver training.
Bear in mind, too, that under the dual test system, the new hgv driver may not necessarily have had any traffic experience at all as an unsupervised car driver. If he passes his hgv test, or a psv test for that matter, he is awarded his car licence at the same time. Is this too lenient?
Our main aim should be to provide as thorough a training and testing programme for the aspiring professional driver as possible. Are we doing it?
Turning to the instructional side, we wonder whether hgv driving instructors should be approved and registered by the Department of Transport as car driving instructors already are. This would be an extension of the present Road Transport Industry Training Board scheme, widened to include all professional hgv instructors instead of just those who wish to register. All instructors could then be re-assessed every five years with periods of refresher training to maintain standard of tuition.
Perhaps the driving schools themselves should be registered and subjected to Ministry approval and inspection? With few exceptions, commercial vehicle driver training is a job for professionals and what is important is to ensure as far as is possible that learner drivers are thoroughly and competently prepared for the hazards of life on the roads.
Equally important for the learner paying out large sums for tuition in the hope of passing his test is that he receives good value for his money in the form of expert training by qualified, experienced instructors.
When applying for his provisional hgv licence, the trainee must provide a detailed medical report which includes an eyesight examination and is a full and perfectly adequate health check. Having gained his full licence, the new driver who may not be any more than 21 years of age is then entitled to drive large vehicles for the next 39 years until he reaches the age of 60 without any further medical examination.
If additional medical checks were to be introduced at, say, 10 or 12 yearly intervals it may be that dangerous deteriorations in the health of drivers, of which they were completely unaware, could be revealed, treated and possible future accidents avoided.
What then should be the format of future hgv tests if there is to be a change in the present system? A three-part test on the following lines is worthy of consideration: PART 1 A written examination on the Highway Code, traffic signs, safety procedures, drivers' hours and the tachograph. Questions to be of multiplechoice type.
Evidence of suitable instruction in roping, sheeting arid securing loads to be produced.
PART 2 Driving examination with an unlader; vehicle on the lines of the existing test. Test to include motorway driving where practical or candidate must produce a certificate from an approved driving school confirming that he has received a minimum number of hours of tuition on motorways.
PART 3 A Mrther certificate to he produced as evidence that the . test candidate has received a minimum number of hours tuition on loaded vehicles with multiple gears.
With regard to trailers, there could he a separate licence category to cover the drawing of trailers and the test undertaken with a drawbar combination.
All of the reflections above relate to commercial goods vehicles hut sonic of the points raised apply equally to passenger vehicles and we believe that our colleagues in psv driver training may have somewhat similar thoughts in mind.
Whatever changes may or may not be introduced eventually in the realm of driver training and testing, the overriding consideration will be road safety and the prevention of accidents. When the crunch conies, what else matters?