Mix up led to death
15th June 1985
Page 5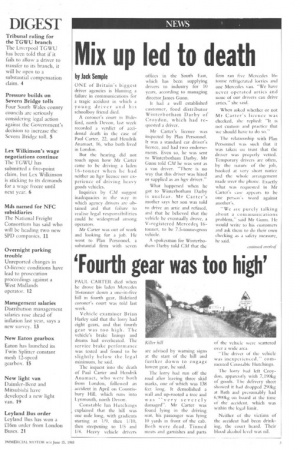 Page 6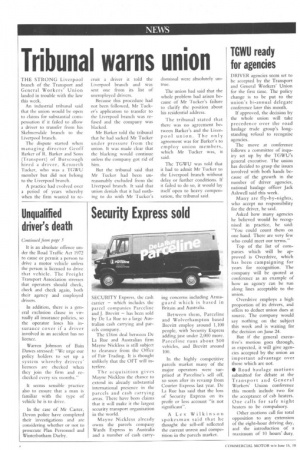 Page 5, 15th June 1985 —
Mix up led to death
Close
by Jack Semple
ONE of Britain's biggest driver agencies is blaming, a failure in communications for a tragic accident in which a young driver and his schoolboy friend died.
A coroner's court in Bideford, north Devon, last week recorded a verdict of accidental death in the case of Paul Carter, 22, and Hendrik Anamaet, 16, who both lived in London.
But the hearing did not touch upon how Mr Carter came to be driving a laden 16-tonner when he bad neither an hgv licence nor experience of driving heavy goods vehicles.
Inquiries by CM suggest inadequacies in the way in which agency drivers are obtained and that failure to realise legal respon si hili t es could be widespread among operators.
Mr Carter was out of work and looking for a job. He went to Plan Personnel, a substantial firm with seven offices in the South East, which has been supplying drivers to industry for 10 years,according to managing director James Gunn.
It had a well established customer, food distributor Winterbotham Darby of Croydon, which had requested a driver.
Mr Carter's licence was inspected by Plan Personnel.
It was a standard car driver's licence, and had two endorsements. Even so, he was sent to Winterbotham Darby. Mr Gunn told CM he was sent as a van driver. "There is no way that this driver was hired or supplied as an hgv driver."
What happened when he got to Winterbotham Darby is unclear. Mr Carter's mother says her son was told to drive an artic and refused, and that he believed that the vehicle he eventually drove, a V-registered Mercede tonner, to be 7.5-tonne-gross vehicle.
A spokesman for Winterbotham Darby told CM that the firm ran five Mercedes 16tonne refrigerated lorries and one Mercedes van. "We have never operated artics and none of our drivers can drive attics," she said.
When asked whether or not Mr Carter's licence was checked, she replied: "It is not custom and practice that we should have to do so."
The relationship with Plan Personnel was such that it was taken on trust that the driver was properly vetted. Temporary drivers are often, by the nature of the job, booked at very short notice and the whole arrangement made over the phone. Exactly what was requested in Mr Carter's case appears to be one person's word against another's.
"We are purely talking about a communications problem," said Mr Gunn. He would write to his customers and ask them to do their own checking as a safety measure, he said.
It is an absolute offence under the Road Traffic Act 1972 to cause or permit a person to drive a motor vehicle unless the person is licensed to drive that vehicle. The Freight 'Transport Association stresses that operators should check, check and check again, both their agency and employed drivers.
In addition, there is a general exclusion clause in virtually all insurance policies, so the operator loses his insurance cover if a driver involved in an accident has no licence.
Warren Johnson of Bain Dawes stressed: "We urge our policy holders to set up a system whereby drivers' licences are checked when they join the firm and rechecked every six months."
It seems sensible practice also to ensure that a man is familiar with the type of vehicle he is to drive.
In the case of Mr Carter, Devon police have completed their investigations and are considering whether or not to prosecute Plan Personnel and Winterbotham Darby.