'Fourth gear was too high'
15th June 1985
Page 5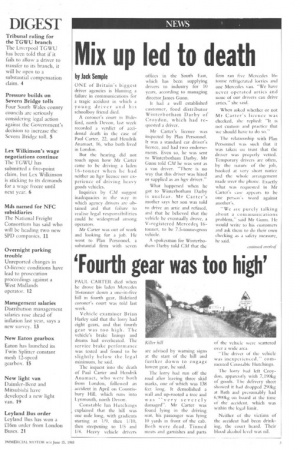 Page 5, 15th June 1985 —
'Fourth gear was too high'
Close
PAUL CARTER died when he drove his laden Mercedes 16-tonner down a one-in-five hill in fourth gear. Bideford coroner's court was told last week.
Vehicle examiner Brian Harley said that the lorry had eight gears, and that fourth gear was too high. The vehicle's brake linings and drums had overheated. The service brake performance was_ tested and found to be slightly below the legal minimum, he said.
The inquest into the death of Paul Carter and Hendrik Anamaet, who were both from London, followed an accident in April on Count'sbury Hill, which runs into Lynmouth, north Devon.
Constable Ian Hutchings explained that the hill was one mile long, with gradients starting at 1/9, then 1/10, then steepening to 1/5 and 1/4. Heavy vehicle drivers are advised by warning signs at the start of the hill and further down to engage lowest gear, he said.
The lorry had run off the road after leaving three skid marks, one of which was -138 feet long. It demolished a wall and up-rooted a tree and was "very severely damaged". Mr Carter was found lying in the driving. scat, his passenger was lying 10 yards in front of the cab. Both were dead. Tinned meats and garnishes and parts
of the vehicle were scattered over a wide area.
The driver of the vehicle was inexperienced." commented Constable Hutchings.
The lorry had left Croydon, apparently with 7,190kg of goods. The delivery sheet showed it had dropped 290kg at Bath and presumably had 6,900kg on board at the time of the accident, which was within the legal limit.
Neither of the victims of the accident had been drinking, the court heard. Their blood alcohol level was nil.