Accidental damage is not the only cause of cracked cylinder blocks
15th June 1985
Page 47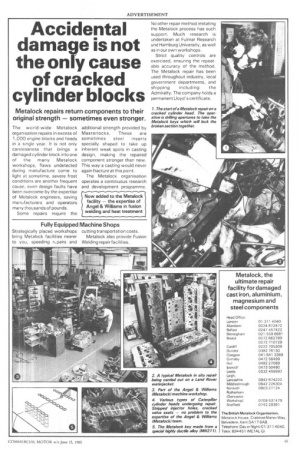 Page 47, 15th June 1985 —
Accidental damage is not the only cause of cracked cylinder blocks
Close
Metalock repairs return components to their original strength — sometimes even stronger.
The worldwide Metalock organisation repairs in excess of 1,000 engine blocks and heads in a single year. It is not only carelessness that brings a damaged cylinder block into one of the many Metalock workshops, flaws undetected during manufacture come to light at sometime, severe frost conditions are another frequent cause, even design faults have been overcome by the expertise of Metalock engineers, saving manufacturers and operators many thousands of pounds.
Some repairs require the additional strength provided by Masterlocks. These are sometimes steel inserts specially shaped to take up inherent weak spots in casting design, making the repaired component stronger than new. This way a casting would never again fracture at this point.
The Metalock organisation operates a continuous research and development programme. No other repair method imitating the Metalock process has such support. Much research is undertaken at Fulmar Research and Hamburg University, as well as in our own workshops.
Strict quality controls are exercised, ensuring the repeatable accuracy of the method. The Metalock repair has been used throughout industry, local government departments, and shipping including the Admiralty. The company holds a permanent Lloyd's certificate.