HOME-GROWN
15th June 1985
Page 44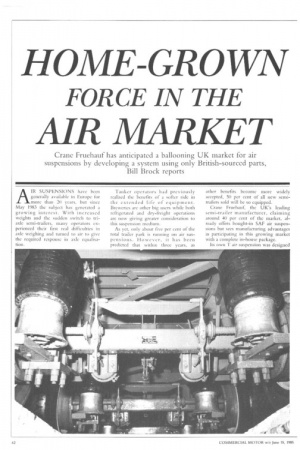 Page 45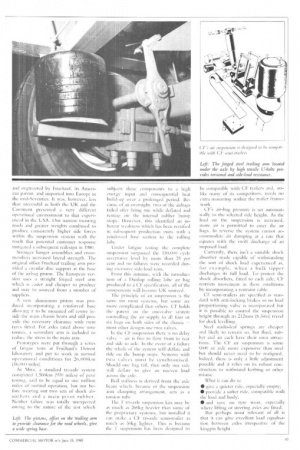 Page 44, 15th June 1985 —
HOME-GROWN
Close
Keywords :
Mechanical Engineering
,
Articulated Vehicles
,
Technology
,
Road Transport
,
Suspension
,
Air Suspension
,
Axle
,
Trailing Arm
,
Semi-trailer
,
Trailer
,
Shock Absorber
,
Hydropneumatic Suspension
FORCE IN THE
MR MARKET
Crane Fruehauf has anticipated a ballooning UK market for air suspensions by developing a system using only British-sourced parts, Bill Brock reports
AIR SUSPENSIONS have been generally available in Europe for more than 20 years, but since May 1983 the subject has generated a growing interest. With increased weights and the sudden switch to triaxle semi-trailers, many operators experienced their first real difficulties in axle weighing and turned to air to give the required response in axle equalisation,
Tanker operators had previously realised the benefits of a softer ride in the extended life of equipment. Breweries are other big users while both refrigerated and dry-freight operations are now giving greater consideration to this suspension medium.
As yet, only about five per cent of the total trailer park is running on air suspensions. However, it has been predicted that within three years, as other benefits become more widely accepted, 50 per cent of all new semitrailers sold will be so equipped.
Crane Fruehauf, the UK's leading semi-trailer manufacturer, claiming around 40 per cent of the market, already offers bought-in SAF air suspensions but sees manufacturing advantages in participating in this growing market with a complete in-house package.
Its own T air suspension was designed and engineered by Fruehauf, its American parent, and imported into Europe in the und-Seventies. It was, however, less than successful as both the UK and the Co [bent presented a very different operational environment to that experi enced in the USA. Our narrow twisting roads and greater weights cotithmed to produce consistently higher side forces within the suspension system with the result that potential customer response instigated a subsequent redesign in 1980.
Stronger hanger assemblies and crossmembers increased lateral strength. The original offset Fruehauf trailing arm pro vided a circular disc support at the Fuse of die andiag piston. The European ver sion uses A straight forged steel arm which is easier and cheaper to produce and !nay be sourced from a number of suppliers.
A new aluminium piston was produced incorporating a reinforced base allowing it to be mounted off centre in side the main chassis beam and still provide the necessary clearance with twin
tyres fitted. For axles rated above nine unines, a secondary arm IS included to reduce the stress in the main arm.
Prototypes were put through A series or fatigue tests at Fru'ehauls Detroit laboratory and put to work in normal operational conditions for 26,000k in (16,000 miles).
At Mira, a standard tri-axle system completed 1,560km (97(.i miles) of pave;
testing-, said to be equal to one million miles of normal operation, hut not before wearing out two secs of shock ab sornk.srs and a main pivot rubber. Neither failure was totally unexpected owing ro the nature of the test which Left: The pistdns, offset on the trailing arm to provide clearance for the road wheels, give a wide spring base. subjects these components to a high energy nip Lit and consequential hear build-up over a prolonged period. Because of all oversight, two of the airbags tailed after being run while deflated :mod resting on the internal rubber hump stops. However, this identified an inherent weakness which has been rectified in subsequent production pints with a reinforced base section to the rolling lobe.
Under fatigue testing the complete suspension surpassed the 1:50,000 cycle acceptance level by more than 25 per cent .ind no failures were recorded during excessive side-load tests.
From this autumn, with the introduction of a Dunlop rolling lobe air bag produced to a CF: specification, all of the components will become. UK sourced.
The principle of air suspension is the same for most systems, but some are more complicated than others. CF holds the patent on the one-valve system controlling rhe air supply to all four or six hags on both sides of the chassis — most other designs use two valves.
In the CI' suspension there is no delay valve — jii is free to flow front to rear and side to side. In the event of a failure the whole of the system will deflate and ride on the bump stops. Systems with two valves must he synchronised. Should one hag fail, then only one side will deflate to give an uneven load across the a Xle.
ROI] stillness is derived troll] the axle beam which, because of suspension arm clamping arrangement, acts as a torsion tube.
The [ tri-axle suspension kits may be as much as 260kg heavier than some of the proprietary systems, hut installed it can make a C.F tra-axle semi-trailer as much as 50kg lighter. This is because the T suspension has been designed to
be compatible with CF trailers and, unlike many of its competitors, needs no extra mounting within the trailer framework.
CF's air-bag pressure is set automatically to the selected ride height. As the load on the suspension is iiicreased, more air is permitted to enter the air bags. In reverse the system cannot accommodate air dumping at a rate that equates with the swift discharge of all imposed load.
Currently, there isn't a suitable shock absorber made capable of withstanding the sort of shock load experienced as, for example, when a bulk tipper discharges its Cull load. To protect the shock absorbers, fitted to each axle, CF restricts MOVelnelli in these conditions by incorporating a restraint cable.
CF semi-trailers are specified as standard with anti-locking brakes so no load proportioning valve is incorporated hut it is possible to control the suspension height through Its 212111111 (8.34m) travel for dock levelling.
Steel multi-leai springs are cheaper and likely to remain so, but fluid, rubber and air each have their own attractions. The CI' air suspension is sonic sl(i01) an axle more expensive than steel but should never need to he realigned. Indeed, there is only a little adjustment possible and it relies on its robust construction to withstand kerbing or other misuse.
What it can do is: • give a quieter ride, especially empty; • provide a softer ride, compatible with the load and body; • and save on tyre wear, especially where lifting or steering axles are fitted. But perhaps most relevant of all is that it can give excellent load equalisation between axles irrespective of the kingpin height.