T HE SECOND Renault vehicle to come my way was far
15th June 1985
Page 41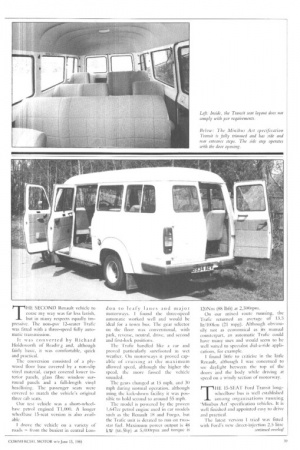 Page 42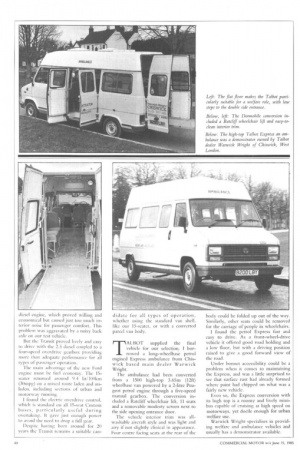 Page 41, 15th June 1985 —
T HE SECOND Renault vehicle to come my way was far
Close
less lavish, but in many respects equally impressive. The non-psv 12-seater Trafic was fitted with a three-speed fully automatic transmission.
It was converted by Richard Holdsworth of Readir,,, and, although fairly basic, it was comfortable, quick and practical.
The conversion consisted of a plywood floor base covered by a non-slip vinyl material, carpet covered lower interior panels, glass fibre window surround panels and a full-length vinyl headlining. The passenger seats were covered to match the vehicle's original three cab seats.
Our test vehicle was a short-wheelbase petrol engined T1,000. A longer wheelbase 15-seat version is also available.
I drove the vehicle on a variety of roads — from the busiest in central Lon don to leafy lanes and major motorways. I found the three-speed automatic worked well and would be ideal for a town bus. The gear selector on the floor was conventional, with park, reverse, neutral, drive, and second and first-lock positions.
The Trafic handled like a car and proved particularly surefooted in wet weather. On motorways it proved capable of cruising at the maximum allowed speed, although the higher the speed, the more fussed the vehicle • sounded.
The gears changed at 15 mph, and 30 mph during normal operation, although using the kick-down facility it was possible to hold second to around 55 mph.
The model is powered by the proven 1,647cc petrol engine used in car models such as the Renault 18 and Fuego, hut the Trafic unit is derated to run on twostar fire]. Maximum power output is 48 kW (66. Slip) at 5,000rpm and torque is 120Nrn (88 ibft) at 2,500rpm.
On our mixed route running, the Trafic returned an average of 13.5 lit/100km (21 mpg). Although obviousily not as economical as its manual counterpart, an automatic Trafic could have many uses and would seem to be well suited to specialist dial-a-ride applications, for example.
I found little to criticise in the little Renault, although I was concerned to see daylight between the top of the doors and the body while driving at speed on awindy section of motorway.
THE 15-SEAT Ford Transit longwheelbase bus is well established
among organisations running 'Minibus Act' specification vehicles. It is well finished and appointed easy to drive and practical.
The latest version I tried was fitted with Ford's new direct-injection 2.5 litre diesel engine, which proved willing and economical but caused just too much interior noise for passenger comfort. This problem was aggravated by a noisy back axle on our test vehicle.
But the Transit proved lively and easy to drive with the 2.5 diesel coupled to a four-speed overdrive gearbox providing more than adequate performance for types of passenger operation.
The main advantage of the new Ford engine must he fuel economy. The 15seater returned around 9.4 lit/100km (30mpg,) on a mixed route laden and unladen, including sections of urban and motorway running.
I found the electric overdrive control, which is standard On all 15-seat Custom buses, particularly useful during overtaking. It gave jusr enough power to avoid the need to drop a Mil gear.
Despite having been around for 20 years the Transit remains a suitable can didate fur all types of operation, whether using the standard van shell, like our 15-seater, or with a converted parcel van body.
ALBOT supplied the final vehicle for our selection. 1 borrowed a long-wheelbase petrol engined Express ambulance from Chiswick based main dealer Warwick Wright.
The ambulance had been converted from a 1500 high-top 3.65m (12ft) wheelbase van powered by a 2-litre Peugeot petrol engine through a five-speed manual gearbox. The conversion included a Ratcliff wheelchair lift, 11 scats and a removable modesty screen next to the side opening entrance door.
The vehicle interior trim was allwashable aircraft style and was light and airy if not slightly clinical in appearance. Four centre facing seats at the rear of the
body could be folded up out of the way. Similarly, other seats could be removed for the carriage of people in wheelchairs.
I found the petrol Express fast and easy to drive. As a front-wheel-drive vehicle it offered good road holding and a low floor, but with a driving position raised to give a good forward view of the road.
Under bonnet accessibility could be a problem when it comes to maintaining the Express, and was a little surprised to see that surface rust had already formed where paint had chipped on what was a fairly new vehicle.
Even so, the Express conversion with its high top is a roomy and lively bus capable of cruising at high speed on motorways, yet docile enough for urban welfare use.
Warwick Wright specialises in providing welfare and ambulance vehicles and usually has a demonstrator available.