EDITORIAL
15th June 1985
Page 4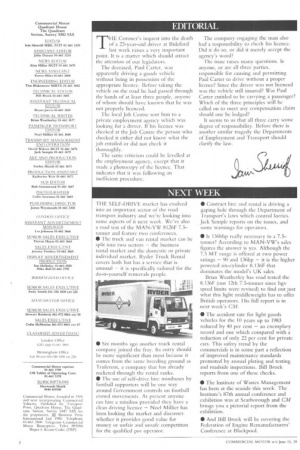 Page 4, 15th June 1985 —
EDITORIAL
Close
THE Coroner's inquest into the death of a 22-year-old driver at Bideford last week raises a very important point. It is a matter which should attract the attention of our legislators.
The deceased, Paul Carter, was apparently driving a goods vehicle without being in possession of the appropriate licence. Before taking the vehicle on the road he had passed through the hands of at least three people, anyone of whom should have known that he was not properly licenced.
The local Job Centre sent him to a private employment agency which was looking for a driver. If his licence was checked at the Job Centre the person who checked it either did not know what the job entailed or did not check it thoroughly.
The same criticism could be levelled at the employment agency, except that it made a photocopy of the licence. That indicates that it was following an inefficient procedure. The company engaging the man also had responsibility to check his licence. Did it do so, or did it merely accept the agency's word?
The issue raises many questions. Is anyone, or are all three parties, responsible for causing and permitting Paul Carter to drive without a proper licence? Since the driver was not licenced was the vehicle still insured? Was Paul Carter entitled to be carrying a passenger? Which of the three principles will be called on to meet any compensation claim should one be lodged?
It seems to us that all three carry some degree of responsibility. Before there is another similar tragedy the Departments of Employment and Transport should clarify the law.