POST DEREG STAKES
15th June 1985
Page 39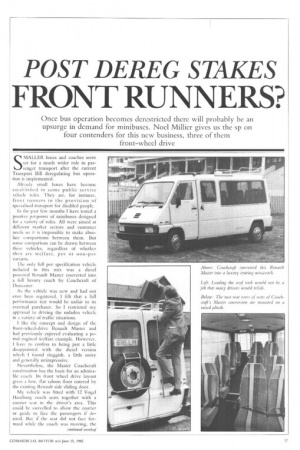 Page 40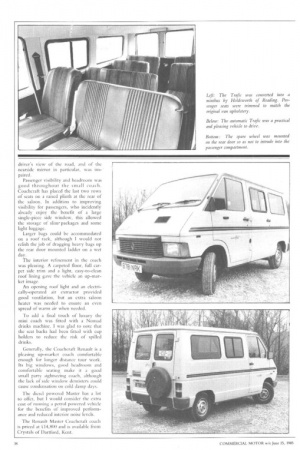 Page 39, 15th June 1985 —
POST DEREG STAKES
Close
FRONT RUNNERS?
Once bus operation becomes &restricted there will probably be an upsurge in demand for minibuses. Noel Millicr gives us the sp on four contenders for this new business, three of them front-wheel drive
SMALLER buses and coaches seem set for a much wider role in passenger transport after the current Transport Bill deregulating bus operation is implemented.
Already small buses have become established in sonic public service vehicle roles. 'rhey are, for instance, front runners in the provision of specialised transport for disabled people.
In the past few months I have tested a positive pot-pourri of minibuses designed for a variety of roles. All were aimed at different market sectors and customer needs so it is impossible to make absolute comparisons between them. But some comparison can be drawn between these vehicles, regardless of whether they are welfare, psv or non-psv variants_
The only full psv specification vehicle included in this mix was a diesel powered Renault Master converted into a full luxury coach by Coachcraft of Dolicaster.
As the vehicle was new and had not even been registered, I felt that a full performance test would be unfair to its eventual purchaser. So I restricted my appraisal to driving the unladen vehicle in a variety of traffic situations.
I like the concept and design of the front-wheel-drive Renault Master and had previously enjoyed evaluating a petrol engined welfare example. However. I have to confess to being just a little disappointed with the diesel version which I found sluggish, a little noisy and generally unimpressive.
Nevertheless, the Master Coachcraft combination has the basis for an admirable coach. Its front wheel drive layout gives a low, flat saloon floor entered by the existing Renault side sliding door.
My vehicle was fitted with 12 Vogel Hamburg coach seats together with a courier seat in the driver's area. This could be swivelled to allow the courier or guide to face the passengers if desired. But if the seat did not face forward while the coach was moving, the
driver's view of the road, and of the nearside mirror in particular, was impaired.
Passenger visibility and headroom was good throughout the small coach. Coachcraft has placed the last two rows of seats on a raised plinth at the rear of the saloon. In addition to improving visibility for passengers, who incidently already enjoy the benefit of a large single-piece side window, this allowed the storage of slimpackages and some light luggage.
Larger bags could be accommodated on a roof rack, although I would not relish the job of dragging heavy bags up the rear door mounted ladder on a wet day.
The interior refinement in the coach was pleasing. A carpeted floor, full carpet side trim and a light, easy-to-clean roof lining gave the vehicle an up-market image.
An opening roof light and an electrically-operated air _extractor provided good ventilation, but an extra saloon heater was needed to ensure an even spread of warm air when needed, To add a final touch of luxury the mini coach was fitted with a Nomad drinks machine. I was glad to note that the seat backs had been fitted with cup holders to reduce the risk of spilled drinks.
Generally, the Coachcraft Renault is a pleasing up-market coach comfortable enough for longer distance tour work. Its big windows, good headroom and comfortable seating make it a good small party sightseeing coach, although the lack of side window demisters could cause condensation on cold damp days.
The diesel powered Master has a lot to offer, but I would consider the extra cost of running a petrol powered vehicle for the benefits of improved performance and reduced interior noise levels.
The Renault Master Coachcraft coach is priced at .$214,8(X) and is available from Crystals of Dartford, Kent.