BACKROOM BOYS
15th June 1985
Page 36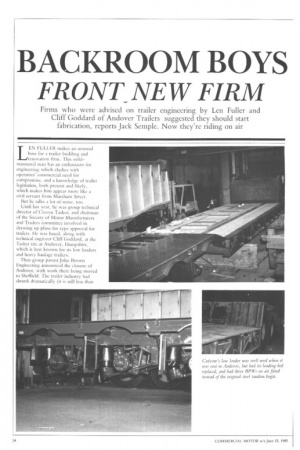 Page 37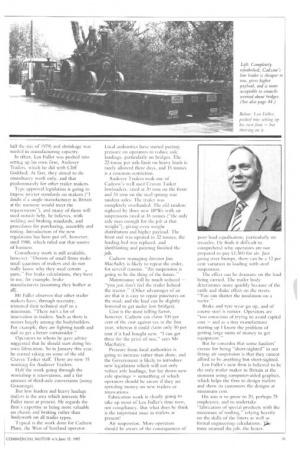 Page 36, 15th June 1985 —
BACKROOM BOYS
Close
FRONT NEW FIRM
Firms who were advised on trailer engineering by Len Fuller and Cliff Goddard of Andover Trailers suggested they should start fabrication, reports Jack Semple. Now they're riding on air
LEN FULLER makes an unusual boss for a trailer building and renovation firm. This in i I dmannered man has an enthusiasm for engineering which clashes with operators' commercial need for compromise, and a knowledge of trailer legislation, both present and likely, which makes him appear more like a civil servant from Marsham Street.
But he talks a lot of sense, too.
Until last year, he was group technical director of Craven Tasker, and chairman of the Society of Motor Manufacturers and Traders committee involved in drawing up plans for type approval for trailers_ He was based, along with technical engineer Cliff Goddard, at the Tasker site at Andover, Hampshire, which is best known for its low loaders and heavy haulage trailers.
Then group parent John Brown Engineering announced the closure of Andover, with work there being moved to Sheffield. The trailer industry had shrunk dramatically (it is still less than half the size of 1979) and shrinkage was needed in manufacturing capacity.
In effect, Len Fuller was pushed into setting up his own firm, Andover Trailers, which be did with Cliff Goddard. At first, they aimed to do consultancy work only, and that predominately for other trailer makers.
Type approval legislation is going to impose stricter standards on makers ("I doubt if a single manufacturer in Britain at the moment would meet the requirements"), and many of them will need outside help, he believes, with welding and braking standards, and procedures for purchasing, assembly and testing. Introduction of the new regulations has been put off, however, until 1988, which ruled out that source of business.
Consultancy work is still available, however. -Dozens of small firms make small quantites of trailers and do not really know why they used certain parts." For brake calculations, they have CO use, for example, brake manufacturers (assuming they bother at all).
Mr Fuller observes that other trailer makers have, through necessity, trimmed their technical staff to a minimum. "There isn't a lot of innovation in trailers. Such as there is occurs largely among the bodybuilders. For example, they are fighting tooth and nail to get a better curtainsider." Operators to whom he gave advice suggested that he should start doing his own fabrication. So in January this year, he started taking on sonic of the old Craven Tasker staff. There are now 15 working for Andover Trailers.
Half the work going through the workshop is renovations, and a fair amount of third-axle conversions (using Grannings).
But low loaders and heavy haulage trailers is the area which interests Mr Fuller most at present. He regards the firm's expertise as being most valuable on chassis and braking rather than bodywork on all trailer types.
Typical is the work done for Cadzow Plant, the West of Scotland operator.
Local authorities have started putting pressure on operators to reduce axle loadings, particularly on bridges. The 22-tonne per axle limit on heavy loads is rarely allowed these days, and 15 tonnes is a common restriction.
Andover Trailers took one of Cadzow's well used Craven Tasker lowloaders, rated at 30 tons on the front and 34 tons on the steel sprung rear tandem axles. The trailer was completely overhauled. The old tandem replaced by three new BPWs with air suspensions rated at 16 tonnes ("the only axle man enough for the job at that weight"), giving even weight distribution and higher payload. The front end was uprated to 32 tonnes, the loading bed was replaced, and shotblasting and painting finished the job.
Cadzow managing director Jim MacAuley is likely to repeat the order, for several reasons. "Air suspension is going to be the thing of the future."
Maintenance will be much reduced you just don't feel the trailer behind the tractor." (Other advantages of air are that it is easy to repair punctures on the road, and the load can be slightly lowered to get under low bridges).
Cost is the most telling factor, however. Cadzow Can claim 100 per cent ofthe cost against tax in the first year, whereas it could claim only 30 per cent if it had bought new. "I can get three for the price of one," says Mr MacAuley.
Pressure from local authorities is going to increase rather than abate, and the Government is likely to introduce new legislation which will not only reduce axle loadings, but lay down new axle spacings — something of which operators should he aware if they are spending money on new trailers or renovations.
Fabrication work is clearly .going to take up most of Len Fuller's time now, not consultancy. But what does he think is the important issue in trailers at present?
Air suspension. More operators should be aware of the cons-cquences of
poor load equalisation, particularly on tri-axles. I le finds it difficult to comprehend why operators are not prepared to pay 0,500 for air. Just going over bumps, there can be a 12 per cent variation in loading with steel suspension.
The effect can be dramatic on the load being carried. The trailer body deteriorates more quickly because of the rattle and shake effect on the rivets. "You can shatter the insulation on a reefer,"
Brake and tyre wear go up, and of course steel is noisier. Operators are "too conscious of trying to avoid capital cost — and as a tiny manufacturer starting up I know the problem of getting large sums of money to get equipment."
But he concedes that some hauliers' excuse for being "short-sighted" in not fitting air suspension is that they cannot afford to be anything but short-sighted.
Len Fuller's new firm is believed to be the only trailer maker in Britain at the moment using computer-aided graphics, which helps the firm to design trailers and show its customers the designs at minimum cost.
His aim is to grow to 20, perhaps 25 employees, and to undertake "fabrication of special products with the minimum of tooling," relying heavily on the skills of the fitters as well as formal engineering calculations. T,..1.1e more unusual the job, the better.