HAULAGE TODAY
15th June 1985
Page 32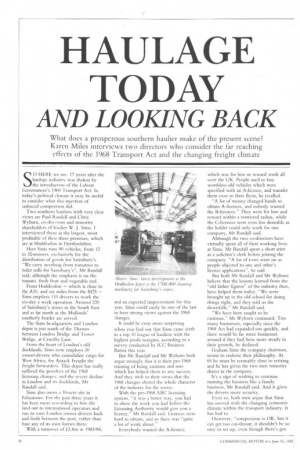 Page 33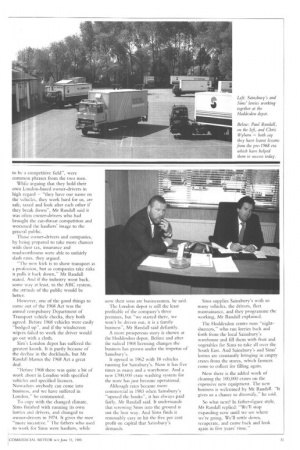 Page 32, 15th June 1985 —
HAULAGE TODAY
Close
AND LOOKING BACK
What does a prosperous southern haulier make of the present scene? Karen Miles interviews two directors who consider the far reaching effects of the 1968 Transport Act and the changing freight climate
S0 HERE we are, 17 years after the haulage industry was shaken by the introduction of the Labour Government's 1968 Transport Act. In today's political climate it may be useful to consider what this injection of enforced competition did.
Two southern hauliers with very clear views are Paul Randall and Chris Wyborn, co-directors and minority shareholders of haulier W. J. Sims. I interviewed them at the largest, most profitable of their three premises, which are at Hoddesdon in Hertfordshire.
Here Sims runs 90 vehicles, from 12 to 32-tonners, exclusively for the distribution of goods for Sainsbury's. "We carry anything from tomatoes to toilet rolls for Sainsbury's", Mr Randall said, although the emphasis is on the tomato, fresh fruit and vegetable end.
From Hoddesdon — which is close to the MO, and six miles from the M25 — Sims employs 110 drivers to work the six-day a week operation. Around 220 of Sainsbury's stores in the South East and as far north as the Midlands' southerly border are served.
The Sims headquarters and London depot is just 'south of the Thames between London Bridge and Tower Bridge, at Crucifix Lane. .
From the heart of London's old docklands, Sims now employs 30 owner-drivers who consolidate cargo for West Africa, for Antack Freight the freight forwarders. This depot has really suffered the penalties of the 1968 licensing changes, and the severe decline in London and its docklands, Mr Randall said.
Sims also owns a 10-acre site in Felixstowe. For the past three years it has been more rewarding to hire the land out to international operators and run its own London owner-drivers back and forth between the port, rather than base any of its own lorries there.
With a turnover of .i.2.8rn in 1983/84,
and an expected improvement for this year, Sims could easily be one of the last to have strong views against the 1968 changes.
It could be even more surprising when you find out that Sims came sixth in a top 10 league of hauliers with the highest profit margins, according to a survey conducted by ICC Business Ratios this year.
But Mr Randall and Mr Wyborn both argue strongly that it is their pre-1968 training of being cautious and sure which has helped them to any success. And they stick to their views that the 1968 changes altered the whole character of the industry for die worse.
With the pre-1968 ABC licensing system, "it was a better way, you had to show the work you had before the Licensing Authority would give you a licence," Mr Randall said. Licences were hard to obtain, and so there was "quite a lot of work about."
Everybody wanted the A-licence, which was for hire or reward work all over the UK. People used to buy worthless old vehicles which were specified with an A-licence, and transfer them over to their fleets, he recalled.
"A lot of money changed hands to obtain A-licences, and nobody wanted the B-licences." They were for hire and reward within a restricted radius, while the C-licences were even less desirable as the holder could only work for one company, Mr Randall said.
Although the two co-directors have virtually spent all of their working lives at Sims, Mr Randall spent a short stint as a solicitor's clerk before joining the company. "A lot of rows went on as people objected to one and other's licence applications", he said.
But both Mr Randall and Mr Wyborn believe that the lessons learned from the "old father figures" of the industry then, have helped them today, "We were brought up in the old school for doing things right, and they told us the downfalls," Mr Randall said.
"We have been taught to be Cautious," Mr Wyborn continued. Too many businesses, especially since the 1968 Act had expanded too quickly, and there would be far more businesses around if they had been more steady in their growth, he declared.
Graham Sims the company chairman, seems to endorse their philosophy. At 65 he Must be resonably close to retiring and he has given the two men minority shares in the company.
It's a sign of wishing to continue running the business like a family business, Mr Randall said. And it gives the drivers more security.
Even so, both men argue that Sims has moved with the changing economic climate within the transport industry. It has had to.
However, "competition is OK, but it can get too cut-throat; it shouldn't be so easy to set up, even though there's, got
to be a competitive field", were common phrases from the two men.
While arguing that they hold their own London-based owner-drivers in high regard — "they have our name on the vehicles, they work hard for us, are safe, taxed and look after each other if they break down", Mr Randall said it was often owner-drivers who had brought the cut-throat competition and worsened the hauliers' image to the general public.
Those owner-drivers and companies, by being prepared to take more chances with their tax, insurance and roadworthiness were able to unfairly slash rates, they argued.
"The new kick is to show transport as a profession, but as companies take risks it pulls it hack down," Mr Randall stated. And if the industry went back, sonic way at least, to the ABC system, the attitude of the public would be better.
However, one of the good things to come out of the 1968 Act was the annual compulsory Department of Transport vehicle checks, they both agreed. Before 1968 vehicles were easily "bodged up", and if the windscreen wipers failed to work the driver would go out with a cloth.
Sim's London depot has suffered the greatest knock. It is partly because of the decline in the dockiands, but Mr Randall blames the 1968 Act a great deal.
"Before 1968 there was quite a bit of work about in London with specified vehicles and specified licences. Nowadays anybody can come into business, and we have suffered in London," he commented.
To cope with the changed climate, Sims finished with running its own lorries and drivers, and changed to owner-drivers in 1974. It gives the men. more incentive." The fathers who used to work for Sims were hauliers, while now their sons are businessmen, he said.
The London depot is still the least profitable of the company's three premises, but "we started there, we won't be driven out, it is a family business", Mr Randall said defiantly.
A more prosperous story is shown at the Hoddesdon depot. Before and after the radical 1968 licensing changes the business has grown under the impetus of Sainsbury's.
It opened in 1962 with 18 vehicles running for Sainsbury's. Now it has five times as many and a warehouse. And a new .000,000 crate washing system for the store has just become operational.
Although rates became more commercial in 1983 when Sainsbury's opened the books", it has always paid fairly, Mr Randall said. It understands that screwing Sims into the ground is not the best way. And Sims finds it reasonably easy to hit the five per cent profit on capital that Sainsbury's demands. Sims supplies Sainsbury's with so many vehicles, the drivers, fleet maintainancc, and they programme the working, Mr Randall explained.
The Hoddesdon centre runs "nightshunters," who run lorries back and forth from the local Sainsbury's warehouse and fill them with fruit and vegetables for Sims to take all over the South East. And Sainsbury's and Sims' lorries are constantly bringing in empty crates from the stores, which farmers conic to collect for filling again.
Now there is the added work of cleaning the 100,000 crates on the expensive new equipment. The new business is welcomed by Mr Randall. "It gives us a chance to diversify," he said.
So what next? In father-figure style, Mr Randall replied: "We'll stop expanding now until we see where we're going. We'll settle down, recuperate, and come back and look again in five years' nine."