NON RECEIPT NEVER CONSIDERED
15th June 1985
Page 24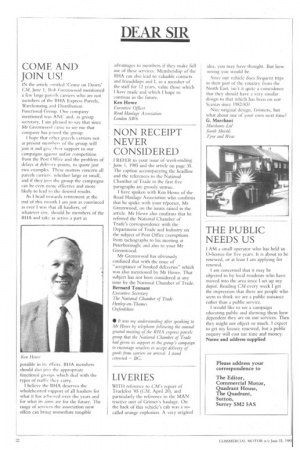 Page 24, 15th June 1985 —
NON RECEIPT NEVER CONSIDERED
Close
I REFER to your issue of week-ending June 1, 1985 and the article on page 35. The caption accompanying the headline and the references to the National Chamber of Trade in the first five paragraphs are grossly untrue.
I have spoken with Ken Howe of the Road Haulage Association who confirms that he spoke with your reporter, Mr Greenwood, on the issues raised in the article. Mr Howe also confirms that he referred the National Chamber of Trade's correspondence with the Department of Trade and Industry on the subject of Post Office exemptions from tachographs to his meeting at Peterborough; and also to your Mr Greenwood.
Mr Greenwood has obviously confused that with the issue of "acceptance of booked deliveries" which was also mentioned by Mr Howe. That subject has not been considered at any time by the National Chamber of Trade. Bernard Tennant Executive Secretary The National Chamber of Trade Henley-on-Thames Oxfordshire
• It was my understanding after speaking to Mr Howe by telephone following the annual general meeting of the RHA express parcels group that the National Chamber of Trade had given its support to the group's campaign to encourage retailers to accept delivery of goods from carriers on arrival. I stand corrected — BC.