COME AND JOIN US!
15th June 1985
Page 24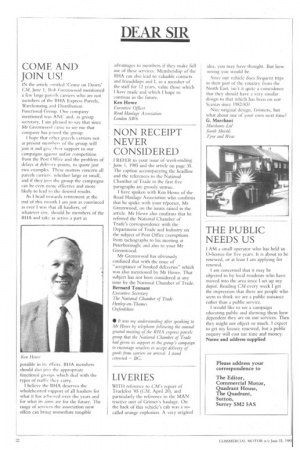 Page 24, 15th June 1985 —
COME AND JOIN US!
Close
IN the article entitled 'Come on Down' CM, June 1, Bob Greenwood mentioned a few large parcels carriers who are not members of the PHA Express Parcels, Warehousing and Distribution
Functional Group. One company mentioned was ANC and, as group secretary. I am pleased to say that since Mr Greenwood came to see me that company has joined the group.
1 hope that other parcels carriers not at present members of the group will join it and give their support to our campaigns against unfair competition from the Post Office and the prOblem of delays at delivery points, to quote just two examples These matters concern all parcels carriers. whether large or small, and if they join the group the campaigns can be even more effective and more likely to lead to the desired results.
As I head towards retirement at the end of this month I am just as convinced as ever I was that all hauliers, of whatever Sin, should he members of the RHA and take as active a part as
possible in its affairs. [HA members should also join the appropriate functional groups which deal with the types of traffic they carry.
I believe the RHA deserves the wholehearted support of all hauliers for what it has achieved over the years and for what its aims are for the future. The range of services the association now offers can bring immediate tangible
advantages to members it' they make full use of these services. Membership of the RHA can also lead to valuable contacts and friendships and I, as a member of the staff for 12 years, value those which I have made and which I hope to continue in the future.
Ken Howe Executive Officer Road Haulage Association London S14/6