Video test case lost
15th June 1985
Page 22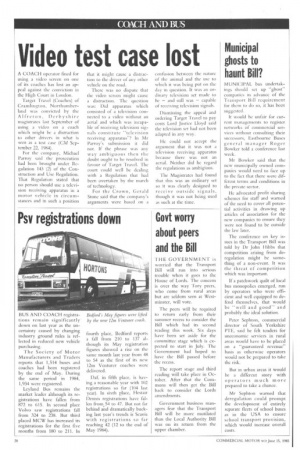 Page 22, 15th June 1985 —
Video test case lost
Close
A COACH operator fined for using a video screen on one of its coaches has lost an appeal against the conviction in the High Court in London.
Target Travel (Coaches) of Cramlington, Northumberland was convicted by the Alfreton, Derbyshire magistrates last September of using a video on a coach which might be a distraction to other drivers in what is seen as a test case (CM September 22, 1984).
For the company, Michael. Parroy said the prosecution had been brought under Regulation 143 (2) of the Construction and Use Regulation. That Regulation stated that no person should use .a television receiving apparatus in a motor vehicle in circumstances and in such a position
that it might cause a distraction to the driver of any other vehicle on the road.
There was no dispute that the video screen' might cause a distraction. The question was: Did apparatus which consisted of a television connected to a video without an aerial and which was incapable of receiving television signals constitute "television receiving apparatus"? In Mr Parroy's submission it did not. If the phrase was any way ambiguous then the doubt ought to be resolved in favour of Target Travel. The court could well be dealing with a Regulation that had been overtaken by the march of technology.
For the Crown, Gerald Stone said that the company's arguments were based on a confusion between the nature of the animal and the use to which it was being put on the day in question. It was an ordinary television set made to be — and still was — capable of receiving television signals.
Dismissing the appeal and ordering Target '[rave] to pay costs Lord Justice Lloyd said the television set had not been adapted in any way.
He could not accept the argument that it was not a television receiving apparatus because there was not an aerial. Neither did he regard the regulations as ambigious.
The Magistrates had found that this was an ordinary set so it was clearly designed to receive outside signals, though it was not being used as such at the time.