Municipal ghosts to haunt Bill?
15th June 1985
Page 22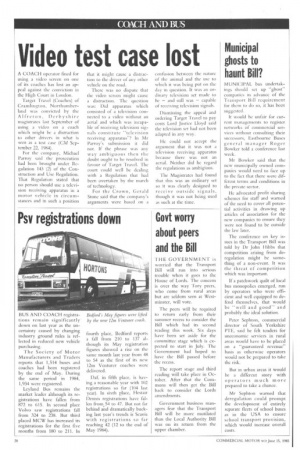 Page 22, 15th June 1985 —
Municipal ghosts to haunt Bill?
Close
MUNICIPAL bus undertakings should set up "ghost" companies in advance of the Transport Bill requirement for them to do so, it has been suggested.
It would be unfair for current managements to register networks of commercial services without consulting their successors, Eastbourne Buses general manager Roger Bowker told a conference last week.
Mr Bowker said that the new municipally owned companies would need to face up to the fact that there were different terms and conditions in the private sector.
He advocated profit sharing schemes for staff and warned of the need to cover all potential activities in drawing up articles of association for the new companies to ensure they were not found to be outside the law later.
The conference on key issues in the Transport Bill was told by Dr John 1Iibbs that competition arising from deregulation might be something of a non-event. It was the threat of competition which was important.
If a patchwork quilt of local bus monopolies emerged, run by operators who were efficient and well equipped to defend themselves, that would be "well and good" and probably the ideal solution.
Peter Sephton, commercial director of South Yorkshire PTE, said he felt tenders for uneconomic services in rural areas would have to be placed on a "guaranteed revenue" basis as otherwise operators would not be prepared to take the risk.
But in urban areas it would be a different story with operators much more prepared to take a chance.
Mr Sepliton warned that deregulation could prompt the development of entirely separate fleets of school buses as in the USA to ensure school transport provision, which would increase overall costs.