Cosmopolitan van
15th June 1985
Page 21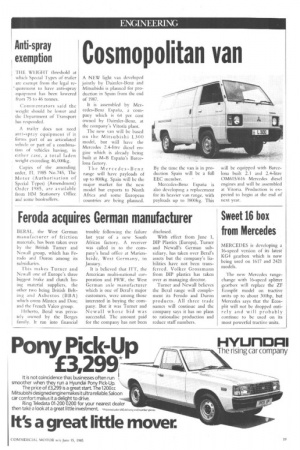 Page 21, 15th June 1985 —
Cosmopolitan van
Close
A NEW light van developed jointly by Daimler-Benz and Mitsubishi is planned for production in Spain from the end of 1987.
It is assembled by Mercedes-Benz Espana, a company which is 64 per cent owned by Daimler-Benz, at the company's Vitoria plant.
The new van will be based on the Mitsubishi L300 model, but will have the Mercedes. 2.4-litre diesel engine which is already being built at M-B Espana's Barcelona factory.
The Mercedes-Benz range will have payloads of up to 800kg. Spain will be the major market for the new model but exports to North Africa and some European countries are being planned. By the time the van is in production Spain will be a full EEC member.
Mercedes-Benz Espana is also developing a replacement for its heavier van range, with payloads up to 1800kg. This will be equipped with Barcelona built 2.1 and 2.4-litre 0M615/616 Mercedes diesel engines arid will he assembled at Vitoria. Production is expected to begin at the end of next year.