High performance air filter from Cosworth
15th June 1985
Page 20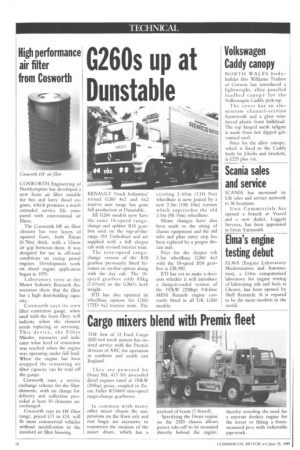 Page 20, 15th June 1985 —
High performance air filter from Cosworth
Close
COSWORTH Engineering of Northampton has developed a new foam air filter suitable for bus and lorry diesel engines, which promises a much extended service life compared with conventional air filters.
The Cosworth HF air filter element has two layers of squared foam, both 20inm (0.78in) thick, with a 12mm air gap between them. It was designed for use in off-road conditions on racing petrol engines. Development work on diesel engine application began in 1979.
Laboratory tests at the Motor Industry Research Association show that the filter has a high dust-holding capacity.
Cosworth says its own filter restriction gauge, when used with the foam filter, will indicate when the element needs replacing or servicing. This device, the Filter Minder, measures and indicates what level of restriction was reached when the engine was operating under full load. When the engine has been stopped the remaining air filter capacity can be read off the gauge.
Cosworth runs a service exchange scheme for the filter elements, with no charge for delivery and collection provided at least 10 elements are exchanged.
Cosworth says its HF filter range, priced £11 to £14, will fit most commercial vehicles without modification to the standard air filter housing.