The mate in the cab
15th June 1985
Page 17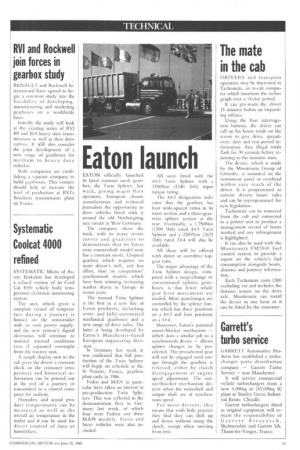 Page 17, 15th June 1985 —
The mate in the cab
Close
DRIVERS and transport operators may be interested in Tachomate, an in-cab computer which monitors the tachograph over a 14-day period.
It can pre-warn the driver 15 minutes before an impending offence.
Using the four interrogation buttons, the driver can call up his hours totals on the screen to give drive, spreadover, duty and rest period information. Any illegal totals flash for 30 seconds before returning to the monitor state.
The device, which is made by the Monitronix Group of Grimsby, is mounted on the instrument panel or overhead within easy reach of the driver. It is programmed to current drivers hours rules and can be reprogrammed for new legislation.
Tachomate can be removed from the cab and connected to a printer unit to produce a management record of hours worked and any infringement is highlighted.
It can also be used with the Monitronix FM2000 fuel control system to provide a report on the vehicle's fuel consumption alongside hours, distance and journey information.
Each Tachomate costs £300 excluding vat and includes the distance sensor on the drive axle. Monitronix can install the device in one hour or it can be fitted by the customer.