Eaton launch
15th June 1985
Page 17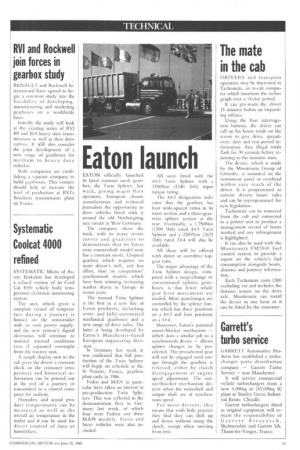 Page 17, 15th June 1985 —
Eaton launch
Close
EATON officially launched its latest constant mesh gearbox, the Twin Splitter, last week, giving major fleet operators, European chassis manufacturers and technical journalists the opportunity to drive vehicles fitted with it around the old Nurhurgring race circuit in West Germany.
The company chose the track, with its many severe curves and gradients to
• demonstrate that its latest twin countershaft in odd now has A constant mesh, 12-speed gearbox which requires no more driver's skill, and less effort, than its competitors' synchromesh models which have been winning increasing market shares in Europe in recent years.
The manual Twin Splitter is the first in a new line of Eaton products, including semiand fully-automated mechanical gearboxes and a new range of drive axles. The latter is being developed by Eaton's Manchester-based European engineering division, In Germany last week it was confirmed that full production of the Twin Splitter will begin on schedule at the St Nazaire, France, gearbox plant early in 1986.
Foden and MAN in particular have taken an interest in pre-production Twin splitters. This was reflected in the demonstration fleet in Germany last week, of which four were Fodens and three MAN models. Iveco and Steyr vehicles were also included.
All were fitted with the 4x3 Twin Splitter with a 1550Nrn (1140 lhft) input torque rating.
The 4x3 designation indicates that the gearbox has four wide-spaced ratios in its main section and a three-geartrain splitter section at the rear. Eventually, a 1,750Nrn (1290 lbft) rated 4x3 Twin Splitter and a 2200Nnt (1623 lbft) rated 3x4 will also be available.
All these will he offered with direct or overdrive topgear ratio.
The major advantage of the Twin Splitter design, compared with a range-change or conventional splitter gearboxes, is that fewer whole gear lever movements are needed. Most gearchanges are controlled by the splitter button which has three positions on a 4x3 and four positions on a 3x4.
Moreover, Eaton's patented sensor/biocker mechanism — which does a similar job to a synchromesh device — allows splitter changes to be preselected. The pre-selected gear will not be engaged until torque through the gearbox is relieved, either by clutch disengagement or engine speed adjustment. The sensor/blocker mechanism detects when the rnainshaft and output shaft are at synchronous speed.
For most drivers, this means that with little practice they find they can shift up and down without using the clutch, except when moving from rest.