Anne opens freight exhibition
15th June 1985
Page 16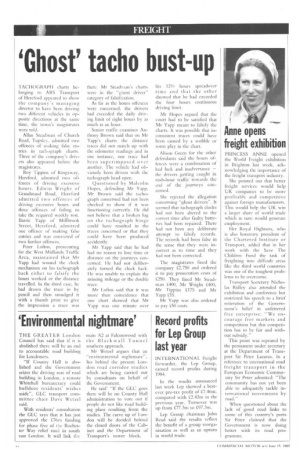 Page 16, 15th June 1985 —
Anne opens freight exhibition
Close
PRINCESS ANNE opened the World Freight exhibition in Brighton last week, acknowledging the importance of the freight transport industry.
She pointed out that better freight services would help UK companies to be more profitable and competitive against foreign manufacturers. This would help the UK win a larger share of world trade which in turn would generate employment.
Her Royal Highness, who is also honorary president of the Chartered Institute or Transport, added that in her work with the Save The Children Fund the task of freighting into difficult areas like the third world countries was one of the toughest problems to be overcome.
Transport Secretary Nicholas Ridley also attended the exhibition and conference hut restricted his speech to a brief reiteration of the Government's belief in unfettered free enterprise: "We encourage free markets and competition but this competition has to be fair and without subsidy."
This point was repeated by the permanent under secretary at the Department of Transport Sir Peter Lazarus. In a reference to international road freight transport in the European Economic Community Sir Peter admitted: "The community has not yet been able to adequately tackle international movements by road."
When questioned about the lack of good road links to some of this country's ports Sir Peter claimed that the Government is now doing better with its road programme.