Townsend's 'no-booking' experiment
15th June 1985
Page 15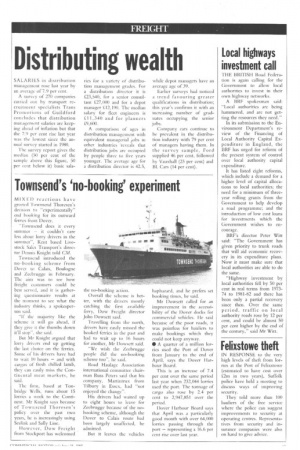 Page 15, 15th June 1985 —
Townsend's 'no-booking' experiment
Close
MIXED reactions have greeted "I.ownsend Thorcsen's decision to "experimentally" end booking for its outward ferries from Dover.
"Townsend does it every summer — it couldn't care less about lorry drivers in the summer", Kent based Livestock Sales Transport's director Dennis Knight told CM.
Townsend introduced the no-booking scheme from Dover to Calais, Boulogne and Zeebrugge in February. The aim was to see how freight customers could be best served, and it is gathering questionnaire results at the moment to see what the industry thinks, a spokesperson said.
"If the majority like the scheme it will go ahead, if they give it the thumbs down it'll stop", she said.
But Mr Knight argued that lorry drivers end up getting the last choice on the ferries. Sonic of Ins drivers have had to wait 111 hours — and with cargos of fresh chilled lamb, they can easily miss the Continental meat markets, he said.
The firm, based at Tonbridge Wells, runs about 15 lorries a week to the Continent. Mr Knight says because of Townsend Thoresen's policy over the past two years, he is increasingly using Sealink and Sally Line.
However, Dow Freight from Stockport has welcomed the no-booking action.
Overall the scheme is better, with the drivers mostly catching the first available ferry, Dow Freight director John Dowsett said.
Travelling from the north, drivers have easily missed the booked ferries in the past and had to wait up to 16 hours for another, Mr Dowsett said.
"We wish the Zeebrugge people did the no-booking scheme too", he said.
Road Haulage Association international committee chairman Russ Peters said that his company, Martnitrux from Tilbury in Essex, had "not enjoyed the change".
His drivers had waited up to eight hours to leave for Zeebrugge because of the nohooking scheme, although the Dover to Calais route had been largely unaffected, he admitted.
But it leaves the vehicles haphazard, and he prefers set booking times, he said.
Mr Dowsett called for an improvement in the accessibility of the Dover docks for commercial vehicle's. He said because of the poor roads, it was pointless for hauliers to make bookings which they could not keep anyway.
• A quarter of a million lorries used the Port of Dover from January to the end of April, says the Dover Harbour Board.
This is an increase of 7.4 per cent over the same period last year when 232,044 lorries used the port. The tonnage of cargo also rose by 2.4 per cent to 2,947,851 over the period.
Dover Harbour Board says that April was a particularly good month with over 64,000 lorries passing through the port — representing a 16.6 per cent rise over last year.