Local highways Investment call
15th June 1985
Page 15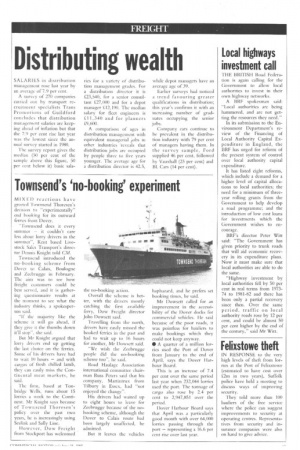 Page 15, 15th June 1985 —
Local highways Investment call
Close
THE BRITISH Road Federation is again calling for the Government to allow local authorities to invest in their own highway networks.
A BRE spokesman said: "Local authorities are being hammered, and are not getting the resources they need."
In its submission to the Environment Department's review of the Financing of Local Authority Capital Ex-. pcnditure in England, the BRF has urged for reform of the present system of control over local authority capital expenditure.
It has listed eight reforms, which include a demand for a higher level of capital allocations to local authorities; the need for a minimum of threeyear roiling grants from the Government to help develop a road programme; and the introduction of low cost loans for investments which the Government wishes to encourage.
BRITs director Peter Witt said: "The Government has given priority to trunk roads that will aid economic recovery in its expenditure plans. Now it must make sure that local authorities are able to do the same.
"Highway investment by local authorities fell by 50 per cent in real terms from 197374 to 1981-82 and there has been only a partial recovery since then. Over the same period, traffic on local authority roads rose by 12 per cent, and could be almost 50 per cent higher by the end of the century," said Mr Witt.