Distributing wealth
15th June 1985
Page 15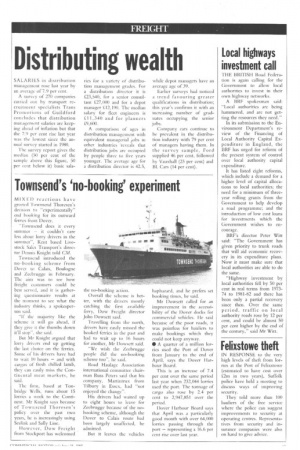 Page 15, 15th June 1985 —
Distributing wealth
Close
SALARIES in distribution management rose last year by an average of 7.9 per cent.
A survey of 270 companies carried out by transport recruitment specialists Trans Promotions of Guildford concludes that distribution management salaries arc keeping ahead of inflation but that the 7.9 per cent rise last year was the lowest since the annual survey started in 1980.
The survey report gives the median (50 per cent of the sample above this figure, 50 per (7ent below it) basic sala ries for a variety of distribution management grades. For a distribution director it is £23,540, for a senior consultant £27,000 and for a depot manager £12,190. The median salary for fleet engineers is £11,340 and for planners £9,600.
A comparison of ages in distribution management with equivalent managerial jobs in other industries 'reveals that distribution jobs are occupied by people three to five years younger. The average age fir a distribution director is 42.5, while depot managers have an average age of 39.
Earlier surveys had noticed a trend favouring greater qualifications in distribution; this year's confirms it with an increasing number of graduates occupying the senior jobs. • Company cars continue to be prevalent in the distribution industry with 79 per cent of managers having them. In the survey sample, Ford supplied 46 per cent, followed by Vauxhall (23 per cent) and BL Cars (14 per cent).