hange of conditions prosecution delayed
15th June 1985
Page 14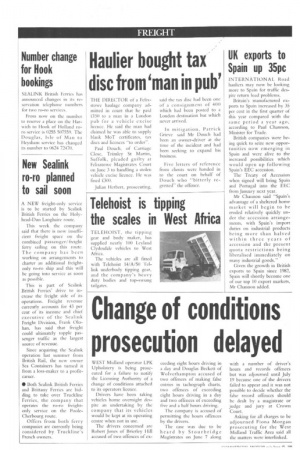 Page 14, 15th June 1985 —
hange of conditions prosecution delayed
Close
WEST Midland operator LPK Upholstery is being prosecuted for a failure to notify the Licensing Authority of a change of conditions attached to its operators licence.
Drivers have been taking vehicles home overnight despite an undertaking by the company that its vehicles would be kept at its operating centre when not in use.
The drivers concerned are Robert Jones of Brierley Hill accused of two offences of ex
ceeding eight hours driving in a day and Douglas Beckett of Wolverhampton accused of two offences of making false entries in tachograph charts, two offences of exceeding eight hours driving in a day and two offences of exceeding five and a half hours driving.
The company is accused of permitting the hours offences by the drivers.
The case was due to be heard by Stourbridge Magistrates on June 7 along
with a number of driver's hours anti records offences but was adjourned until July 19 because one of the drivers failed to appear and it WAS not possible to decide whether the false record offences should be dealt by a magistrate or judge and jury at Crown Court.
Asking for all charges to be adjourned Fiona Morgan prosecuting for the West Midland Traffic Area said all the matters were interlinked.