Truckstops fight for rights
15th July 1993
Page 8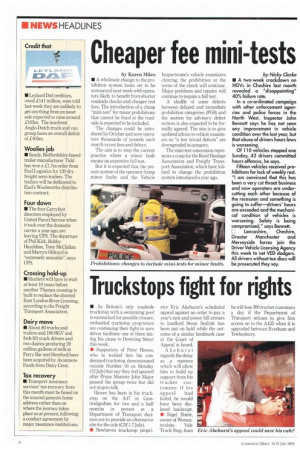 Page 8, 15th July 1993 —
Truckstops fight for rights
Close
• As Britain's only roadside truckstop with a swimming pool is earmarked for possible closure, embattled truckstop proprietors are continuing their fight to save driver facilities: one of them taking his cause to Downing Street this week.
• Supporters of Peter Hawes, who is welded into his condemned truckstop, demonstrated outside Number 10 on Monday (12 July) but say they feel ignored after Prime Minister John Major passed the group twice but did not stop to talk.
Hawes has been in his truckstop on the A47 in Cambridgeshire for two and a half months in protest at a Department of Transport decision not to provide an alternative site for the cafe (CM 1-7 July).
• Newhaven truckstop propri etor Eric Akehurst's scheduled appeal against an order to pay a year rent and power bill arrears to landlord Stena Sealink has been put on hold while the outcome of a similar landmark case at the Court of Appeal is heard.
Akehurst regards the delay as a reprieve which will allow him to build up support from his trucker customers: if his appeal had failed, he would have been declared bankrupt.
• Nigel Hurst, owner of Worces tershire Vale Truck Stop, fears he will lose 300 trucker customers a day if the Department of Transport refuses to give him access on to the A435 when it is upgraded between Evesham and Tewkesbury.