Cheaper fee mini-tests
15th July 1993
Page 8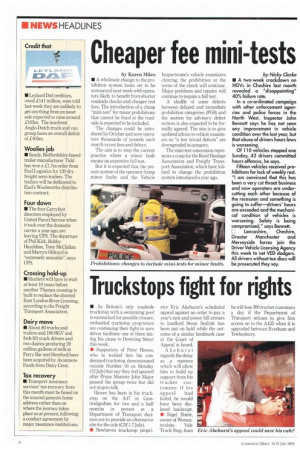 Page 8, 15th July 1993 —
Cheaper fee mini-tests
Close
by Karen Miles • A wholesale change to the prohibition system looks set to be announced next week with operators likely to benefit from shorter roadside checks and cheaper test fees. The introduction of a cheap "mini-test" for minor prohibitions that cannot be fixed at the roadside is expected to be included.
The changes could be introduced by October and save operators thousands of pounds each month in test fees and delays.
The aim is to stop the current practice where a minor fault means an expensive full test.
But it is expected that the present system of the operator fixing minor faults and the Vehicle In spectorate's vehicle examiners clearing the prohibition at the scene of the check will continue. Major problems and repairs will continue to require a full test.
A shuffle of some defects between delayed and immediate prohibition categories (PG9) and the section for advisory defect notices is also expected to be formally agreed. The aim is to give updated advice to vehicle examiners so "a few trivial defects" are downgraded in category.
The mini-test concession represents a coup for the Road Haulage Association and Freight Transport Association, which have lobbied to change the prohibition system introduced a year ago.