at" 'I wonder if the Vehicle
15th July 1993
Page 48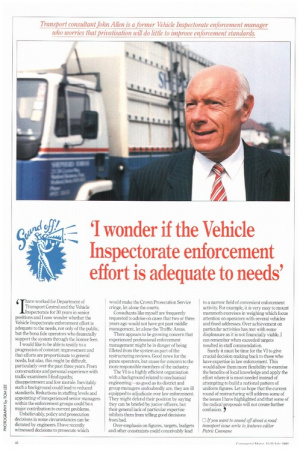 Page 48, 15th July 1993 —
at" 'I wonder if the Vehicle
Close
Inspectorate enforcement effort is adequate to needs'
g1 have worked for Department of Transport Central and the Vehicle
Inspectorate for 30 years in senior positions and I now wonder whether the Vehicle Inspectorate enforcement effort is adequate to the needs, not only of the public, but the bona fide operators who financially support the system through the licence fees.
I would like to be able to testify to a progression of constant improvement and that efforts are proportionate to general needs, but alas, this might be difficult, particularly over the past three years. From conversations and personal experience with traffic examiners I find apathy, disappointment and low morale. Inevitably such a background could lead to reduced standards. Reductions in staffing levels and appointing of inexperienced senior managers within the enforcement groups could be a major contribution to current problems.
Unbelievably, policy and prosecution decisions in some circumstances can be dictated by engineers. I have recently witnessed decisions to prosecute which would make the Crown Prosecution Service cringe, let alone the courts.
Consultants like myself are frequently requested to advise on cases that two or three years ago would not have got past middle management, let alone the Traffic Areas.
There appears to be growing concern that experienced professional enforcement management might be in danger of being filleted from the system as part of the restructuring reviews. Good news for the pirate operators, but cause for concern to the more responsible members of the industry.
The VI is a highly efficient organisation with a background related to mechanical engineering—as good as its district and group managers undoubtedly are, they are ill equipped to adjudicate over law enforcement. They might defend their position by saying they can be briefed by junior officers, but their general lack of particular expertise inhibits them from telling good decisions from bad.
Over-emphasis on figures, targets, budgets and other constraints could conceivably lead to a narrow field of convenient enforcement activity For example, it is very easy to mount mammoth exercises in weighing which focus attention on operators with several vehicles and fixed addresses. Over achievement on particular activities has met with some displeasure as it is not financially viable. I can remember when exceeded targets resulted in staff commendation.
Surely it must be time for the VI to give crucial decision-making back to those who have expertise in law enforcement. This would allow them more flexibility to exercise the benefits of local knowledge and apply the effort where it is most needed instead of attempting to build a national pattern of uniform figures. Let us hope that the current round of restructuring will address some of the issues I have highlighted and that some of the radical proposals will not create further confusion. 9