Mammon or Monopoly?
15th July 1993
Page 46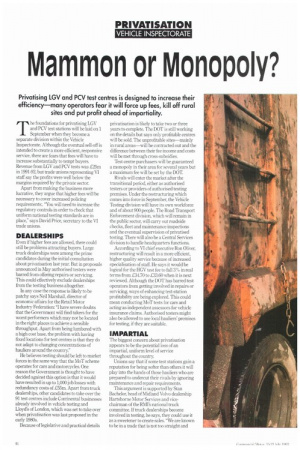 Page 47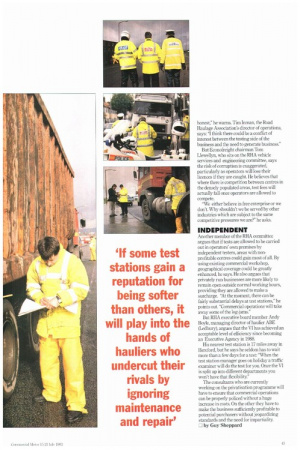 Page 46, 15th July 1993 —
Mammon or Monopoly?
Close
The foundations for privatising LGV and PCV test stations will be laid on 1 September when they become a separate division within the Vehicle Inspectorate. Although the eventual sell-off is intended to create a more efficient, responsive service, there are fears that fees will have to increase substantially to tempt buyers. Revenue from LGV and PCV tests was £25m in 1991-92, but trade unions representing VI staff say the profits were well below the margins required by the private sector.
Apart from making the business more lucrative, they argue that higher fees will be necessary to cover increased policing requirements:. "You will need to increase the regulatory controls in order to check that uniform national testing standards are in place," says David Price, secretary to the VI trade unions.
DEALERSHIPS
Even if higher fees are allowed, there could still be problems attracting buyers. Large truck dealerships were among the prime candidates during the initial consultation about privatisation last year. But in proposals announced in May authorised testers were barred from offering repairs or servicing. This could effectively exclude dealerships from the testing business altogether.
In any case the response is likely to be patchy says Neil Marshall, director of economic affairs for the Retail Motor Industry Federation: "I have severe doubts that the Government will find takers for the worst performers which may not be located in the right places to achieve a sensible throughput. Apart from being lumbered with a high cost base, the problem with having fixed locations for test centres is that they do not adapt to changing concentrations of hauliers around the country."
He believes testing should be left to market forces in the same way that the MoT scheme operates for cars and motorcycles. One reason the Government is thought to have decided against this option is that it would have resulted in up to 1,000 job losses with redundancy costs of £55m. Apart from truck dealerships, other candidates to take over the 91 test centres include Continental businesses already involved in vehicle testing and Lloyd's of London, which was set to take over when privatisation was last proposed in the early 1980s.
Because of legislative and practical details privatisation is likely to take two or three years to complete. The DOT is still working on the details but says only profitable centres will be sold. The unprofitable sites—mainly in rural areas—will be contracted out and the difference between their fee income and costs will be met through cross-subsidies.
Test centre purchasers will be guaranteed a monopoly in their area for several years but a maximum fee will be set by the DOT Rivals will enter the market after the transitional period, either as authorised testers or providers of authorised testing premises. Under the restructuring which comes into force in September, the Vehicle Testing division will have its own workforce and of about 900 people. The Road Transport Enforcement division, which will remain in the public sector, will curry out roadside checks, fleet and maintenance inspections and the eventual supervision of privatised testing. There will also be a Central Services division to handle headquarters functions.
According to VI chief executive Ron Oliver, restructuring will result in a more efficient, higher quality service because of increased specialisation of staff. He says it would be logical for the HGV test fee to fall 3% in real terms from £34.70 to £33.60 when it is next reviewed. Although the DOT has barred test operators from getting involved in repairs or servicing, ways of enhancing test-station profitability are being explored. This could mean conducting MoT tests for cars and acting as independent assessors for vehicle insurance claims, Authorised testers might also be allowed to use local hauliers' premises for testing, if they are suitable.
The biggest concern about privatisation appears to be the potential loss of an impartial, uniform level of set-vice
throughout the country.
Unions say that if some test stations gain a reputation for being softer than others it will play into the hands of those hauliers who are prepared to undercut their rivals by ignoring maintenance and repair requirements.
This argument is supported by Stan Bachelor, head of Midland Volvo dealership Hartshorne Motor Services and vicechairman of the RMI's national truck committee. If truck dealerships become involved in testing, he says, they could use it as a sweetener to create sales. "We are known to be in a trade that is not too straight and honest," he warns. Tim Inman, the Road Haulage Association's director of operations, says: "I think there could be a conflict of interest between the testing side of the business and the need to generate business."
But Econofreight chairman Tom Llewellyn, who sits on the RI-IA vehicle services and engineering committee, says the risk of corruption is exaggerated, particularly as operators will lose their licences if they are caught. He believes that where there is competition between centres in the densely populated areas, test fees will actually fall once operators are allowed to compete.
"We either believe in free enterprise or we don't. Why shouldn't we be served by other industries which are subject to the same competitive pressures we are?" he asks.
Another member of the RHA committee argues that if tests are allowed to be carried out in operators' own premises by independent testers, areas with nonprofitable centres could gain most of all. By using existing commercial workshop, geographical coverage could be greatly enhanced, he says. He also argues that privately run businesses are more likely to remain open outside normal working hours, providing they are allowed to make a surcharge. "At the moment, there can be fairly substantial delays at test stations," he points out. "Commercial operations will take away some of the logjams."
But RHA executive board member Andy Boyle, managing director of haulier ABE (Ledbury), argues that the VI has achieved an acceptable level of efficiency since becoming an Executive Agency in 1988.
His nearest test station is 17 miles away in Ifereford, but he says he seldom has to wait more than a few days for a test: "When the test station manager goes on holiday a traffic examiner will do the test for you. Once the VI is split up into different departments you won't have that flexibility" The consultants who are currently working on the privatisation programme will have to ensure that commercial operations can be properly policed without a huge increase in costs. On the other they have to make the business sufficiently profitable to potential purchasers without jeopardizing standards and the need for impartiality. Cl by Guy Sheppard