Taking council
15th July 1993
Page 44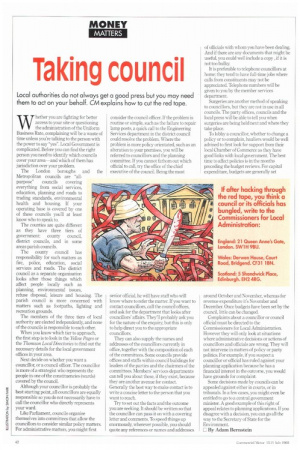 Page 45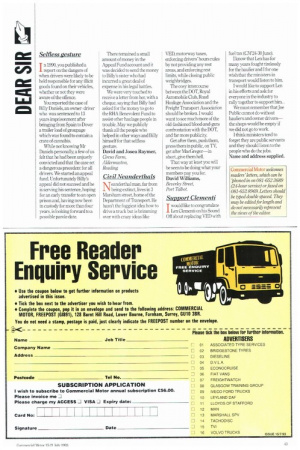 Page 44, 15th July 1993 —
Taking council
Close
Whether you are fighting for better access to your site or questioning the administration of the Uniform Business Rate, complaining will be a waste of time unless you're talking to the person with the power to say "yes". Local Government is complicated. Before you can find the right person you need to identify which councils cover your area—and which of them has jurisdiction over your problem.
The London boroughs and Metropolitan councils are "allpurpose" councils covering everything from social services, education, planning and roads to trading standards, environmental health and housing. If your operating base is covered by one of these councils you'll at least know who to speak to.
The counties are quite different as they have three tiers of government: county council, district councils, and in some areas parish councils.
The county council has responsibility for such matters as fire, police, education, social services and roads. The district council as a separate organisation looks after those things which affect people locally such as planning, environmental issues, refuse disposal, leisure and housing. The parish council is more concerned with matters such as footpaths, lighting and recreation grounds.
The members of the three tiers of local authority are elected independently, and none of the councils is responsible to each other.
When you know which tier to approach, the first step is to look in the Yellow Pages or the Thomson Local Directories to find out the necessary details for the local government offices in your area.
Next decide on whether you want a councillor, or a council officer. The councillor is more of a strategist who represents the people in one of the constituencies (wards) covered by the council.
Although your councillor is probably the best starting point, all councillors are equally responsible so you do not necessarily have to call the councillor who directly represents your ward.
Like Parliament, councils organise themselves into committees that allow the councillors to consider similar policy matters. For administrative matters, you might first the consider the council officer. If the problem is routine or simple, such as the failure to repair lamp posts, a quick call to the Engineering Services department in the district council could resolve the problem. Where the problem is more policy orientated, such as an alteration to your premises, you will be referred to councillors and the planning committee. if you cannot fathom out which official to call, try the office of the chief executive of the council. Being the most senior official, he will have staff who will know where to refer the matter. If you want to contact councillors, call the council offices, and ask for the department that looks after councillors' affairs. They'll probably ask you for the nature of the enquiry, but this is only to help direct you to the appropriate councillors.
They can also supply the names and addresses of the councillors currently in office, together with the composition of each of the committees. Some councils provide offices and staffs within council buildings for leaders of the parties and the chairmen of the committees. Members' services departments can tell you about these, if they exist, because they are another avenue for contact.
Generally the best way to make contact is to write a concise letter to the person that you want to reach.
Try to set out the facts and the outcome you are seeking. It should be written so that the councillor can pass it on with a covering letter and comments. To speed things up enormously, wherever possible, you should quote any references or names and addresses of officials with whom you have been dealing. And if there are any documents that might be useful, you could well include a copy , if it is not too bulky.
It is preferable to telephone councillors at home: they tend to have full-time jobs where calls from constituents may not be appreciated. Telephone numbers will be given to you by the member services department.
Surgeries are another method of speaking to councillors, but they are not in use in all councils. The party offices, councils and the local press will be able to tell you when surgeries are being held next and where they take place.
To lobby a councillor, whether to change a policy or to complain, hauliers would be well advised to first look for support from their local Chamber of Commerce as they have good links with local government. The best time to affect policies is in the months preceding the budget reviews. For capital expenditure, budgets are generally set around October and November, whereas for revenue expenditure it's November and December, Once budgets have been set by the council, little can be changed.
Complaints about a councillor or council official must be directed to the Commissioners for Local Administration. However they will only look at situations where administrative decisions or actions of councillors and officials are wrong. They will not intervene in matters of policy or party politics. For example, if you suspect a councillor or official has ruled against your planning application because he has a financial interest in the outcome, you would have grounds for complaint.
Some decisions made by councils can be appealed against either in courts, or in tribunals. In a few cases, you might even be entitled to go to a central government minister. A good example of this right of appeal relates to planning applications. If you disagree with a decision, you can gm all the way to the Secretary of State for the Environment.
By Adam Bernstein
T n 1990, you published a 1 report on the dangers of when drivers were likely to be held responsible for any illicit goods found on their vehicles, whether or not they were aware of the offence.
You reported the case of Billy Daniels, an ownerdriver who was sentenced to 13 years imprisonment after bringing from Spain to Dover a trailer load of groupage which was found to contain a crate of cannabis.
While not knowing Mr Daniels personally, a few of us felt that he had been unjustly convicted and that the case set a dangerous precedent for all drivers. We started an appeal fund. Unfortunately Billy's appeal did not succeed and he is serving his sentence, hoping for an early transfer to an open prison and, having now been in custody for more than four years, is looking forward to a possible parole date. There remained a small amount of money in the Appeal Fund account and it was decided to send the money to Billy's sister who had incurred a great deal of expense in his legal battles. We were very touched to receive a letter from her, with a cheque, saying that Billy had asked for the money to go to the RI-IA Benevolent Fund to assist other haulage people in trouble. May we publicly thank all the people who helped in other ways and Billy himself for that selfless gesture.
David and Josea Raymer, Circus Farm,
Akiennaston, Reading
Civil Neanderthals
Neanderthal man, far from being extinct, lives in 3 Marsham street, home of the Department of Transport. He hasn't the foggiest idea how to drive a truck but is brimming over with crazy ideas like VED, motorway taxes, enforcing drivers' hours rules by not providing any rest areas and enforcing rest limits, while closing public weighbridges.
The cosy intercourse between the DOT, Royal Automobile Club, Road Haulage Association and the Freight Transport Association should be broken. I would want to see much more of the old-fashioned blood-and-guts confrontation with the DOT, and far more publicity.
Get after them, push them, press them in public, on TV, get after MacGregor—in short, give them hell.
That way at least you will be seen to be doing what your members pay you for.
David Williams,
Beverley Street, Port Talbot.
Support Clementi
T would like to congratulate 1 Len Clementi on his Sound Off about replacing VED with
fuel tax (CM24-30 June).
I know that Len has for many years fought tirelessly for the haulier and I for one wish that the ministers in transport would listen to him.
I would like to support Len in his efforts and ask for everyone in the industry to rally together to support him..
We must remember that Joe Public cannot do without hauliers and owner drivers— the shops would be empty if we did not go to work.
I think ministers tend to forget they are public servants and they should listen to the people who do the jobs.
Name and address supplied.