B ritish Rail's parcels arm Red Star is up for sale.
15th July 1993
Page 42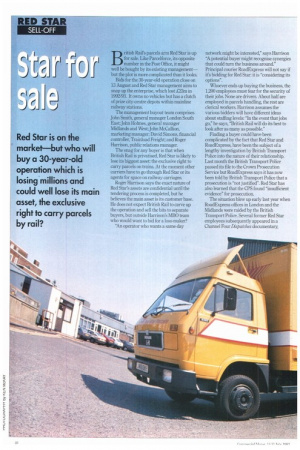 Page 43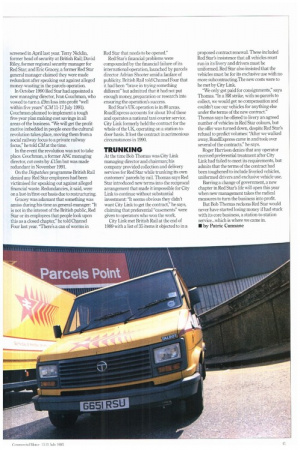 Page 42, 15th July 1993 —
B ritish Rail's parcels arm Red Star is up for sale.
Close
Like Parcelforce, its opposite number in the Post Office, it might well be bought by its existing management— but the plot is more complicated than it looks.
Bids for the 30-year-old operation close on 13 August and Red Star management aims to snap up the enterprise, which lost £23m in 1992/93. It owns no vehicles but has a clutch of prize city-centre depots within mainline railway stations.
The management buyout team comprises John Smith, general manager London South East; John Holmes, general manager Midlands and West; John McCallion, marketing manager; David Simons, financial controller, Trainload Freight; and Roger Harrison, public relations manager.
The snag for any buyer is that when British Rail is privatised, Red Star is likely to lose its biggest asset the exclusive right to carry parcels on trains. At the moment other carriers have to go through Red Star or its agents for space on railway carriages.
Roger Harrison says the exact nature of Red Star's assets are confidential until the tendering process is completed, but he believes the main asset is its customer base. He does not expect British Rail to carve up the operation and sell the bits to separate buyers, but outside Harrison's MBO team who would want to bid for a loss-maker? "An operator who wants a same-day network might be interested," says Harrison "A potential buyer might recognise synergies that could turn the business around." Principal courier RoadExpress will not say if it's bidding for Red Star: it is "considering its options".
Whoever ends up buying the business, the 1,200 employees must fear for the security of their jobs. None are drivers. About half are employed in parcels handling, the rest are clerical workers. Harrison assumes the various bidders will have different ideas about staffing levels: "In the event that jobs go," he says, "British Rail will do its best to look after as many as possible."
Finding a buyer could have been complicated by the fact that Red Star and RoadExpress, have been the subject of a lengthy investigation by British Transport Police into the nature of their relationship. Last month the British Transport Police passed its file to the Crown Prosecution Service but RoadExpress says it has now been told by British Transport Police that a prosecution is "not justified". Red Star has also learned that the CPS found "insufficient evidence" for prosecution.
The situation blew up early last year when RoadExpress offices in London and the Midlands were raided by the British Transport Police. Several former Red Star employees subsequently appeared in a Channel Four Dispatches documentary;
screened in April last year. Terry Nicklin, former head of security at British Rail; David Riley, former regional security manager for Red Star; and Eric Gracey, a former Red Star general manager claimed they were made redundant after speaking out against alleged money-wasting in the parcels operation.
In October 1990 Red Star had appointed a new managing director, Ivan Couchman, who vowed to turn a ,£9m loss into profit "well within five years" (CM11-17 July 1991). Couchman planned to implement a tough five-year plan making cost savings in all areas of the business. "We will get the profit motive imbedded in people once the cultural revolution takes place, moving them from a social railway focus to a private railway focus," he told CMat the time.
In the event the revolution was not to take place. Couchman, a former ANC managing director, cut costs by £15m but was made redundant in November 1991.
On the Dispatches programme British Rail denied any Red Star employees had been victimised for speaking out against alleged financial waste. Redundancies, it said, were on a last-in/first-out basis due to restructuring
Gracey was adamant that something was amiss during his time as general-manager: "It is not in the interest of the British public, Red Star or its employees that people look upon this as a closed chapter," he told Channel Four last year. "There's a can of worms in Red Star that needs to be opened."
Red Star's financial problems were compounded by the financial failure of its international operation, launched by parcels director Adrian Shooter amid a fanfare of publicity. British Rail told Channel Four that it had been "brave in trying something different" but admitted that it had not put enough money, preparation or research into ensuring the operation's success.
Red Star's UK operation is in 80 areas. RoadExpress accounts for about 10 of these and operates a national taxi courier service. City Link formerly held the contract for the whole of the UK, operating on a station-todoor basis. It lost the contract in acrimonious circumstances in 1990.
At the time Bob Thomas was City Link managing director and chairman; his company provided collection and delivery services for Red Star while trunking its own customers' parcels by rail. Thomas says Red Star introduced new terms into the reciprocal arrangement that made it impassible for City Link to continue without substantial investment: "It seems obvious they didn't want City Link to get the contract," he says, claiming that preferential "easements" were given to operators who won the work.
City Link met British Rail at the end of 1989 with a list of 35 items it objected to in a proposed contract renewal. These included Red Star's insistence that all vehicles must run in its livery and drivers must be uniformed. Red Star also insisted that the vehicles must be for its exclusive use with no more subcontracting.The new casts were to be met by City Link.
"We only got paid for consignments," says Thomas. "In a BR strike, with no parcels to collect, we would get no compensation and couldn't use our vehicles for anything else under the terms of the new contract" Thomas says he offered to livery an agreed number of vehicles in Red Star colours, but the offer was turned down, despite Red Star's refusal to predict volumes: "After we walked away, RoadExpress came in and took over several of the contracts," he says.
Roger Harrison denies that any operator received preferential treatment after City Link had failed to meet its requirements, but admits that the terms of the contract had been toughened to include liveried vehicles, uniformed drivers and exclusive vehicle use.
Barring a change of government, a new chapter in Red Star's life will open this year when new management takes the radical measures to turn the business into profit
But Bob Thomas reckons Red Star would never have started losing money if had stuck with its core business, a station-to-station service...which is where we came in.
• by Patric Ciamane