Morrison to settle soon
15th July 1993
Page 19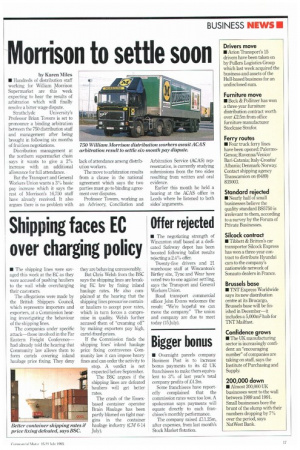 Page 19, 15th July 1993 —
Morrison to settle soon
Close
by Karen Miles • Hundreds of distribution staff working for William Morrison Supermarket are this week expecting to hear the results of arbitration which will finally resolve a bitter wage dispute.
Strathclyde University's Professor Brian Towers is set to pronounce a binding arbitration between the 750 distribution staff and management after being brought in following six months of fruitless negotiations.
Distribution management at the northern supermarket chain says it wants to give a 2% increase with an additional allowance for full attendance.
But the Transport and General Workers Union wants a 3% basic pay increase which it says the rest of Morrison's 16,750 staff have already received. It also argues there is no problem with lack of attendance among distribution workers.
The move to arbitration results from a clause in the national agreement which says the two parties must go to binding agreement over disputes.
Professor Towers, working as an Advisory. Conciliation and Arbitration Service (ACAS) representative, is currently studying submissions from the two sides resulting from written and oral evidence.
Earlier this month he held a hearing at the ACAS office in Leeds where he listened to both sides' arguments.