Driver 75% to blame
15th July 1993
Page 17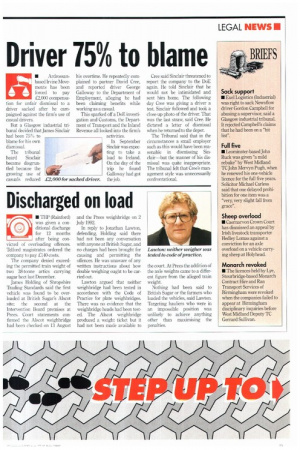 Page 17, 15th July 1993 —
Driver 75% to blame
Close
• Ardrossanbased Irvine Movements has been forced to pay ,C2,000 compensation for unfair dismissal to a driver sacked after he campaigned against the firm's use of casual drivers.
6 I
The tribunal heard Sinclair became disgruntled because the growing use of casuals reduced his overtime. He repeatedly complained to partner David Cree, and reported driver George Galloway to the Department of Employment, alleging he had been claiming benefits while working as a casual.
This sparked off a DoE investigation and Customs, the Department of Transport and the Inland Revenue all looked into the firm's activities.
In September Sinclair was expecting to take a load to Ireland. On the day of the trip he found Galloway had got the job. Cree said Sinclair threatened to report the company to the DoE again. He told Sinclair that he would not be intimidated and sent him home. The following day Cree was giving a driver a test. Sinclair followed and took a close-up photo of the driver. That was the last straw, said Cree. He dictated a letter of dismissal when he returned to the depot.
The Tribunal said that in the circumstances a small employer such as this would have been reasonable in dismissing Sinclair—but the manner of his dismissal was quite inappropriate. The tribunal felt that Cree's management style was unnecessarily confrontational.