Discharged on load
15th July 1993
Page 17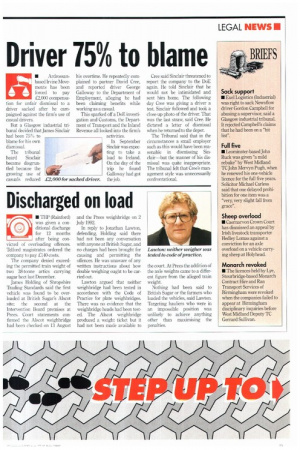 Page 17, 15th July 1993 —
Discharged on load
Close
• TI-IF (Rainford) was given a conditional discharge for 12 months after being convicted of overloading offences. Telford magistrates ordered the company to pay £140 costs.
The company denied exceeding the permitted train weight of two 38-tonne artics carrying sugar beet last December.
James Holding of Shropshire Trading Standards said the first vehicle was found to be overloaded at British Sugar's Alscot site; the second at the Intervention Board premises at Prees. Court statements confumed the Alscot weighbridge had been checked on 13 August and the Frees weighbridge on 2 July 1992.
In reply to Jonathan Lawton, defending, Holding said there had not been any conversation with anyone at British Sugar, and no charges had been brought for causing and permitting the offences. He was unaware of any written instructions about how double weighing ought to be carried out.
Lawton argued that neither weighbridge had been tested in accordance with the Code of Practice for plate weighbridges. There was no evidence that the weighbridge heads had been tested. The Alscot weighbridge produced a weight ticket but it had not been made available to the court. At Frees the addition of the axle weights came to a different figure from the alleged train weight.
Nothing had been said to British Sugar or the farmers who loaded the vehicles, said Lawton. Targeting hauliers who were in an impossible position was unlikely to achieve anything other than maximising the penalties.