Load, rest and use fine
15th July 1993
Page 16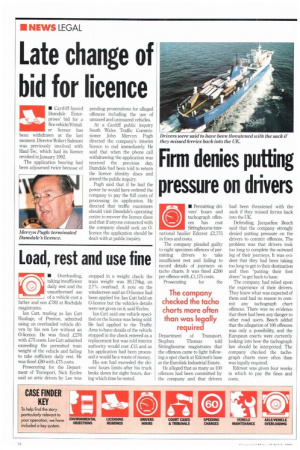 Page 16, 15th July 1993 —
Load, rest and use fine
Close
• Overloading, taking insufficient daily rest and the unauthorised use of a vehicle cost a father and son £782 at Rochdale magistrates.
Ian Catt, trading as Ian Catt Haulage, of Preston, admitted using an overloaded vehicle driven by his son Lee without an 0-licence. He was fined .C.276 with £75 costs. Lee Catt admitted exceeding the permitted train weight of the vehicle and failing to take sufficient daily rest. He was fined £80 with .C75 costs.
Prosecuting for the Department of Transport, Nick Eccles said an artic driven by Lee was stopped in a weight check: the train weight was 39,170kg, an 2.7% overload. A note on the windscreen said an 0-licence had been applied for. Ian Catt held an 0-licence but the vehicle's details were not given on it, said Eccles.
Ian Catt said one vehicle spedfled on the licence was being sold. He had applied to the Traffic Area to have details of the vehicle stopped in the check entered as a replacement but was told interim authority would cost £15 and as his application had been processed it would be a waste of money.
His son had exceeded the drivers' hours limits after his truck broke down for eight hours, during which time he rested.