Firm denies pulling pressure on drivers
15th July 1993
Page 16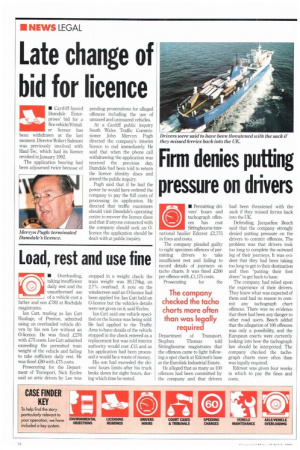 Page 16, 15th July 1993 —
Firm denies pulling pressure on drivers
Close
• Permitting drivers' hours and tachograph offences has cost Sitfingbourne international haulier Edcrest £2,775 in fines and costs.
The company pleaded guilty to eight specimen offences of permitting drivers to take insufficient rest and failing to record details of journeys on tacho charts. It was fined £200 per offence with £1,175 costs.
Prosecuting for the Department of Transport, Stephen Thomas told Sittingbourne magistrates that the offences came to light following a spot check at Edcrest's base at the Eurolink Industrial Estate.
He alleged that as many as 100 offences had been committed by the company and that drivers
had been threatened with the sack if they missed ferries back into the UK.
Defending, Jacqueline Beech said that the company strongly denied putting pressure on the drivers to commit offences. The problem was that drivers took too long to complete the outward leg of their journeys. It was evident that they had been taking too long to get to their destination and then "putting their foot down" to get back to base.
The company had relied upon the experience of their drivers. They knew what was expected of them and had no reason to commit any tachograph chart offences. There was no evidence that there had been any danger to other road users. Beech added that the allegation of 100 offences was only a possibility and the European courts were currently looking into how the tachograph law should be interpreted. The company checked the tachograph charts more often than was legally required.
Edcmst was given four weeks in which to pay the fines and costs.