One Hears
15th July 1915
Page 4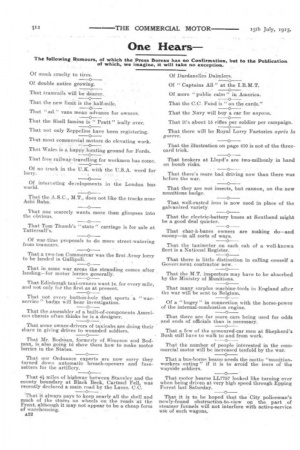 Page 4, 15th July 1915 —
One Hears
Close
The following Rumours, of which the Press Bureau has no Confirmation, but to the Publication of which, we imagine, it will take no exception.
Of much cruelty to tires.
• 0 Of double notice growing.
That trainrails will be dearer.
That the new limit is the half-mile.
That "ad." vans mean advance for owners.
That the Shell famine is " Pratt" ically over.
That not only Zeppelins have been registering.
That most commercial motors do elevating work.
That Wales is a happrhunting ground for Fords.
That free railway-travelling for workmen has come.
Of no truck in the U.K. with the U.S.A. Word for lorry.
Of interesting clev-elopments in the London bus world.
That the A.S.C., M.T., does not like the tracks near Achi Baba; That one scarcely wants more than glimpses into the obvious.
That Tom Thumb's " state " carriage is for sale at Tattersall's.
Of war-time proposals to do more street-watering from tramcars.
That a two-ton Commercar was the first Army lorry to be landed in Gallipoli..
That in some war areas the stranding comes after landing—for motor lorries generally.
That Edinburgh taxi-owners want Is. for every mile, and not only for the first as at present.
That not every buttOn-hole that sports a "warservice " badge will bear investigation.
That the assembler of a built-of-components American chassis often thinks he is a designer.
That some owner-drivers of taxicabs are doing their share in giving drives to wounded soldiers.
That Mr. Bodrnan, formerly of Simpson and Rodman, is also going to show then i how to make motor lorries in the States.
That our Ordnance experts are now sorry they turned down automatib• breach-openers and fusesetters for the artillery.
That 4i miles of highway between Stavelev and the county boundary at Black Beck, Cartmel Fell, was recently declared a main road by the Lancs. C.C.
That' it always pays to keep nearly all the shell and much of the stores on wheels on the roads at the Front, although it maynot appear tO be a cheap form of warehousing.
a22 Of Dardanelles Daimlers. Of "Captains All" at the Of more "public calm" in America.
That the C.C. Fund is "on the cards."
That the Navy will buy a car for anyone.
That it's about 15 rifles per soldier per campaign.
That there will be Royal Lorry Factories apres la guerre.
That the illustration on page 410 is not of the threecard trick.
That brokers at Lloyd's are two-milhonly in hand on bomb risks.
That there's more bad driving now than there was before the war.
That they are not insects, but cannon, on the new munitions badge.
That well-rusted iron is now used in place of the galvanized variety That the electric-battery buses at Southend might be a good deal quieter.
That char-a-banes owners are making do—and money—in all sorts of ways.
That the taximeter on each cab fleet is a National Register. of a well-known That there is little distinction in calling oneself a GoverEment contractor now. • That the AUT, inspectors may have to be absorbed by the Ministry of Munitions.
That many surplus machine-tools in England after the war will be sent to Belgium.
Of a " bogey " in connection with the horse-power of the internal-combustion engine.
That there are far more cars being used for odds and ends of officials than is necessary.
That a few of the armoured-car men at Shepherd's Bush still have to walk to and from work.
That the number of people interested in the commercial motor will be increased tenfold by the war.
That a bus-borne beano needs the motto "munitionworkers outing" if it is to avoid the jeers of the wayside soldiers.
That motor hearse LL7757 looked like turning over when being driven at very high speed through Epping Forest last Saturday.
That it is to be hoped that the City policeman's newly-found obstruction-to-view on the part of steamer funnels will not interfere with active-service use of such wagons.