Moving (BODYWORK))
15th January 1971
Page 77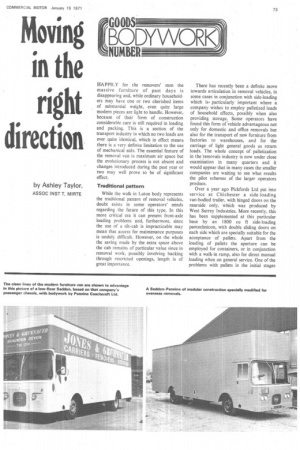 Page 78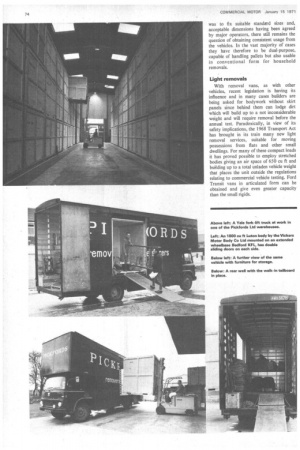 Page 79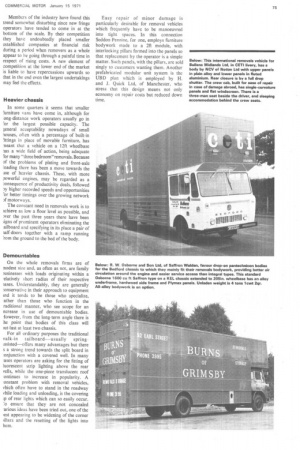 Page 77, 15th January 1971 —
Moving (BODYWORK))
Close
in the right direction
HAPPILY for the removers' men the massive furniture of past days is disappearing and, while ordinary householders may have one or two cherished items of substantial weight, even quite large modern pieces are light to handle. However, because of their form of construction considerable care is still required in loading and packing. This is a section of the transport industry in which no two loads are ever quite identical, which in effect means there is a very definite limitation to the use of mechanical aids. The essential feature of the removal van is maximum air space but the evolutionary process is not absent and changes introduced during the past year or two may well prove to be of significant effect.
Traditional pattern
While the walk-in Luton body represents the traditional pattern of removal vehicles, doubt exists in some operators' minds regarding the future of this type. In this more critical era it can present front-axle loading problems and, furthermore, since the use of a tilt-cab is impracticable may mean that access for maintenance purposes is unduly difficult. However, on the whole the saving made by the extra space above the cab remains of particular value since in removal work, possibly involving backing through restricted openings, length is of great importance. There has recently been a definite move towards articulation in removal vehicles, in some cases in conjunction with side-loading which isparticularly important where a company wishes to employ palletized loads of household effects, possibly when also providing storage., Some operators have found this form of vehicle advantageous not only for domestic and office removals but also for the transport of new furniture from factories to warehouses, and for the carriage of light general goods as return loads. The whole concept of palletization in the removalsindustry is now under close examination in many quarters and it would appear that in many cases the smaller companies are waiting to see what results the pilot schemes of the larger operators produce.
Over a year ago Pickfords Ltd put into service at Chichester a side-loading van-bodied trailer, with hinged doors on the nearside only, which was produced by West Surrey Industries. More recently, this has been supplemented at this particular base by an 1800 cu ft side-loading pantechnicon, with double sliding doors on each side which are specially suitable for the acceptance of pallets. Apart from the loading of pallets the aperture can be employed for containers, or in conjunction with a walk-in ramp, also for direct manual loading when on general service. One of the problems with pallets in the initial stages
was to fix suitable standard sizes and, acceptable dimensions having been agreed by major operators, there still remains the question of obtaining consistent usage from the vehicles. In the vast majority of cases they have therefore to be dual-purpose, capable of handling pallets but also usable in conventional form for household removals.
Light removals
With removal vans, as with other vehicles, recent legislation is having its influence and in many cases builders are being asked for bodywork without skirt panels since behind them can lodge dirt which will build up to a not inconsiderable weight and will require removal before the annual test. Paradoxically, in view of its safety implications, the 1968 Transport Act has brought in its train many new light removal services, suitable for moving possessions from flats and other small dwellings. For many of these compact loads it has proved possible to employ stretched bodies giving an air space of 650 cu ft and building up to a total unladen vehicle weight that places the unit outside the regulations relating to commercial vehicle testing. Ford Transit vans in articulated form can be obtained and give even greater capacity than the small rigids. Members of the industry have found this trend somewhat disturbing since new fringe operators have tended to come in at the bottom of the scale. By their competition they have undoubtedly placed smaller established companies at financial risk during a period when removers as a whole appear to be going through a painful time in respect of rising costs. A new element of competition at the lower end of the market is liable to have repercussions upwards so that in the end even the largest undertakings may feel the effects.
Heavier chassis
In some quarters it seems that smaller Furniture vans have come in, although for .ong-distance work operators usually go in For the largest possible capacity. The general acceptability nowadays of small houses, often with a percentage of built-in ittings in place of movable furniture, has meant that a vehicle on a 12ft wheelbase has a wide field of action, being adequate for many "three bedroom" removals. Because of the problems of plating and front-axle loading there has been a move towards the use of heavier chassis. These, with more powerful engines, may be regarded as a .onsequenee of productivity deals, followed V higher recorded speeds and opportunities 'or better timings over the growing network )f motorways.
The constant need in removals work is to tchieve as low a floor level as possible, and )ver the past three years there have been iigns of prominent operators eliminating the ailboard and specifying in its place a pair of talf-doors together with a ramp running 'rom the ground to the bed of the body.
Demountables
On the whole removals firms are of nodest size and, as often as not, are family )usinesses with loads originating within a .elatively short radius of their respective )ases. Understandably, they are generally :onservative in their approach to equipment mod it tends to be those who specialize, .ather than those who function in the raditional manner, who see scope for an ncrease in use of demountable bodies. -Iowever, from the long-term angle there is he point that bodies of this class will mt-last at least two chassis.
For all ordinary purposes the traditional valk-in tailboard--usually springissisted—offers many advantages but there s a strong trend towards the split board in :onjunction with a covered well. In many :ases operators are asking for the fitting of luorescent strip lighting above the rear yells, while the one-piece translucent roof :ontinues to increase in popularity. A :onstant problem with removal vehicles, vhich often have to stand in the roadway vhile loading and unloading, is the covering tp of rear lights which can so easily occur. 7o ensure that they are not concealed • arious ideas have been tried out, one of the ■ est appearing to be widening of the corner pillars and the resetting of the lights into hem. Easy repair of minor damage is particularly desirable for removal vehicles which frequently have to be manoeuvred into tight spaces. In this connection Seddon-Pennine, for one, employs furniture bodywork made to a 2ft module, with interlocking pillars formed into the panels so that replacement by the operator is a simple matter. Such panels, with the pillars, are sold singly to customers wanting them. Another prefabricated modular unit system is the UBD plan which is employed by H. and J. Quick Ltd, of Manchester, who stress that this design means not only economy on repair costs but reduced down time.