Mass application adjourned
15th January 1971
Page 40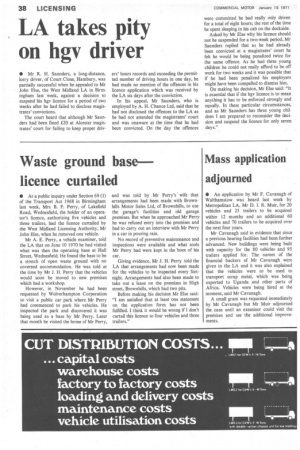 Page 40, 15th January 1971 —
Mass application adjourned
Close
• An application by Mr F. Cavanagh of Walthamstow was heard last week by Metropolitan LA, Mr D. I. R. Muir, for 20 vehicles and 25 trailers to be acquiredwithin 12 months and an additional 60 vehicles and 70 trailers to be acquired over the next four years.
Mr Cavanagh said in evidence that since a previous hearing facilities had been further advanced. New buildings were being built with capacity for the 80 vehicles and 95 trailers applied for. The names of the financial backers of Mr Cavanagh were given to the LA and it was also explained that the vehicles were to be used to transport scrap metal, which was being exported to Uganda and other parts of Africa. Vehicles were being hired at the moment, said Mr Cavanagh.
A small grant was requested immediately by Mr Cavanagh but Mr Muir adjourned the case until an examiner could visit the premises and see the additional improvements.