Loose Leaves.
15th January 1929
Page 2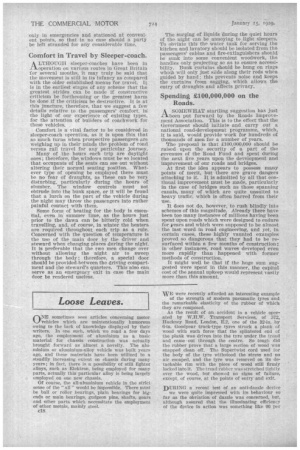 Page 3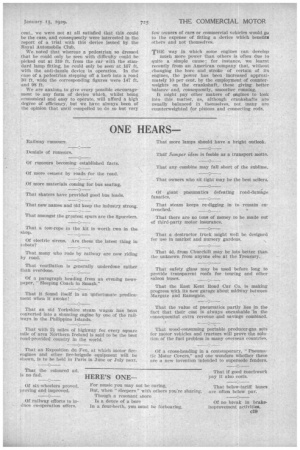 Page 2, 15th January 1929 —
Loose Leaves.
Close
ONECOTE sometimes sees articles concerning motor which are unintentionally humorous owing to the lack of knowledge displayed by their writers. In one such, which we read a few days ago, the employment of aluminium as a basic material for chassis construction was actually brought forward as almost R novelty. The alu. minium or aluminium-alloy vehicle was built . years ago, and these materials have been utilized to a steadily increasing extent on chassis during many years; in fact, there is a possibility of still lighter alloys, such as Elektron, being employed for many parts, actually this particular alloy is being largely employed on one new chassis.
Of course, the all-aluminium vehicle in the strict. sense of the "all ".would be Impossible. There must be ball or roller bearings, plain bearings for bigends or main bearings, gudgeon pins, shafts, gears and other parts which necessitate the employment of other. metals, mainly steel.
c18_ WE were recently afforded an Interesting example of the strength of modern pneumatic tyres and the remarkable elasticity of the rubber of which they are composed.
As the result of an accident to a vehicle operated by W.B.W. Transport Services, of 372, Hackney Road, London, E2, One of the 32-in. by 6-in. Goodyear truck-type tyres struck a plank of wood with such force that the splintered end of the plank was driven into the tyre under the tread and came out through the centre. $o tough did the rubber prove that a large section of wood was snapped clean off. The Snpertwist cord used for the body of the tyre withstood the 'stress and no air escaped, and the tyre was removed on its detachable rim with the piece of wood still firmly locked into it. The tread rubber was stretched tightly over the wood, but showed no signs of failure, except, of course, at the points of entry and exit.
DURING a recent test of an anti-dazzle device we were quite impressed with its behaviour so far as the obviation of dazzle was concerned, but, although assured that the illuminating efficiency of the device in action was something like 66 per cent., we were not at all satisfied that this could be the ease, and Consequently were interested in the report of a trial with this device issued by the Royal Automobile Club.
We. noted that whereas a pedestrian so dressed that he could only be seen with difficulty could be picked out at 319 ft. from the car with the standard lamp fitting, he could only be seenat 167 ft. with the anti-dazzle device in operation. In the .case of a pedestrian stepping off a kerb into a road 30 ft. wide the corresponding figures were 147 ft. and 98 ft.
We are anxious to give every possible encouragement to any form of device which, whilst being , economical and easy to operate, will afford a high degree of efficiency, but we have always been of the opinion that until compelled to do so but very few owners of cars or commercial vehicles would go to the expense • of fitting a device which benefits others and not themselves.
THE way in which some engines can develop mueli more power than others is often due to quite a simple cause; for instance, we learnt recently from an American company that,. without \ changing the bore and . stroke of certain of its engines, the power has been increased approximately 10 per cent, by the employment of counterweights , on the crankshaft,these giving. better balance and, consequently, smoother running. It might pay other makers of engines to look into this matter, as, although crankshafts are usually balanced in themselves, not many are counterweighted for pistons and connecting rods.