New Ideas for Ignition Systems.
15th January 1929
Page 15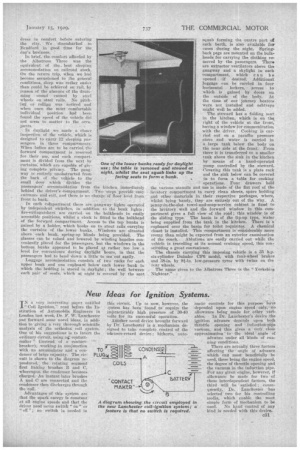 Page 15, 15th January 1929 —
New Ideas for Ignition Systems.
Close
INS very interesting paper entitled " CoiL.Iguitiou," read before the Institution of Automobile Engineers in London last week, Dr. F. W. Latiehester put forward some novel ideas, in addition to giving a i-ely thorough scientific analysis of the orthodox coil system. One of his suggestiou is to invert the ordinary-circuit, using tr*," contactmaker ". (instead of a contactbreaker); working in conjunction with accutaula tor and a• condenser of large capacity. The circuit is shown in the diagram ixproduced, the. rotating segment first linking brushes B and C, whereupon the condenser becomes charged.An instant later brushes A and C are connected and the condenser then discharges through the cell.
Advantages of this system are that the spark energy is constant. at all engine speeds and that. the driver need never swith" on " Or " off "; no switch is needed in this circuit. "Up to now, however, the iyidem has been found, to require the impracticably high pressure of 30-40 volts for its successful operation.
Another novel device brought forward by Dr. Lanchester is a mechanism designed to take complete eontral of the ralvatiee-retard device ; hitherto, Cu to
Hattie controls for this purpose have 'depended upon engine speed • ohly,-'ito allowance being made for other vari
ables. In' Dr. Laliehester's device the ignition advance depends open both throttle opening and ilithietien-pipe vacuum, and this gives a very close approximation to the ideal angle of advance under all kinds of run ning conditions. .
There are actually three factors affecting the angle of advance which cart most beneficially be used, these being the engine speed, the degree of throttle opening and the vacuum in the induction pipe. For any given engine, however, if allowance be made for two of these interdependent factors, the third will be satisfied; consequently, Dr. Lanchester has selected two for his controlling media, which enable the most simple form of Mechanism to be used. No kind control of any kind is needed with this device.