An Original Device for BUS-HEATING.
15th January 1929
Page 13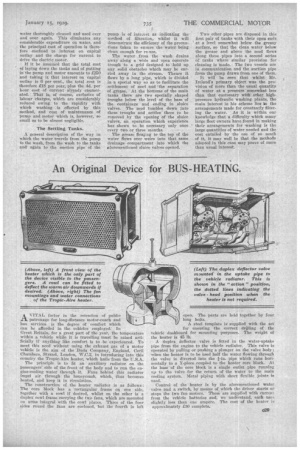 Page 13, 15th January 1929 —
An Original Device for BUS-HEATING.
Close
Keywords :
Plumbing
,
Home Appliances
,
Heater Core
,
Radiator
,
Heating, Ventilating, And Air Conditioning
,
Heating
,
Water Cooling
,
Heater
,
Valve
AVITAL factor in the retention of public patronage for long-distance motor-coach slid bus services is the degree Of comfort. which can he afforded in the vehicles employed. in Great Britain, for a great part of the year, the temperature within a vehicle while it ig travelling must be raised artificially if anything like comfort is to be 'experienced. To meet this need without using the exhaust gas of a motor vehicle is the aim of the Dada Company, England, 'Neil Chambers, Strand, London, W.C.2, in introducing into this country the Tropic-Aire heater, which hails from the TJ.S.A.
'The principle is to fit an auxiliary radiator on the passengers' side of the front of the body and to run the engine-cooling water through it. Pans behind this radiator impel air through the honeycomb, which thus becomes heated, and keep it in circulation.
The construction of the heater radiator is as follows: The core block has a rectangular .frame on one side, together with a cowl if desired, whilst on the other is a duplex cowl frame carrying the two fans, which are mounted on aims integral with the cowl plates. Three of the four sides round the fans are enclosed, but the fourth is left open. The parts are held together by four long belts A steel template is supplied with the set for ensuring, the correct drilling of the vehicle dashboard for mounting purposes. The weight of the heater is 45 lb.
A duplex deflector valve is fitted in the water-uptake pipe from the engine to the vehicle radiator. This valve is operated by pulling or pushing a plunger on the valve body ; when the heater is to be used half the water flowing through
the valve is diverted into the pipe which runs horizontally to a 1-piece coupled to the heater core block. At the base of the core block is a single outlet pipe running up to the valve for the return of the water to the main cooling system. . Metal piping with short flexible joints is used.
Control of the heater is by the aforementioned water valve and a switch, by means of which the driver starts or stops the two fan motors. These are Supplied with thirreul from the vehicle batteries and, we understand, each use slightly less than one ampere. The cost of the heater Ic approximately -130 complete.