Injured British driver stranded in France
15th February 1996
Page 8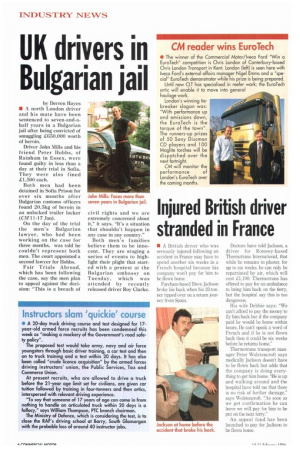 Page 8, 15th February 1996 —
Injured British driver stranded in France
Close
• A British driver who was seriously injured following an accident in France may have to spend another six weeks in a French hospital because his company won't pay for him to be flown home.
Farehatn-based Dave Jackson broke his back when his 23-tonner tipped over on a return journey from Spain. Doctors have told Jackson, a driver for Romsey-based Thermotrans International, that while he remains in plaster, for up to six weeks, he can only be repatriated by air, which will cost .kI,100. Thermotrans has offered to pay for an ambulance to bring him back on the ferry, but the hospital say this is too dangerous.
His wife Debbie says: "We can't afford to pay the money to fly him back but if the company paid he would be home within hours. He can't speak a word of French and if he is not flown back then it could be six weeks before he returns borne."
Thermotrans transport manager Peter Wolstencroft says medically Jackson doesn't have to he flown back but adds that the company is doing everything to get him home. "He is up and walking around and the hospital have told me that there is no risk of further damage," says Wolstencroft. "As soon as we get confirmation he can leave we will pay for him to be put on the next ferry.'
An appeal fund has been launched to pay for Jackson to be flown home.