Nose-rings are out at NE Traffic Office
15th February 1996
Page 7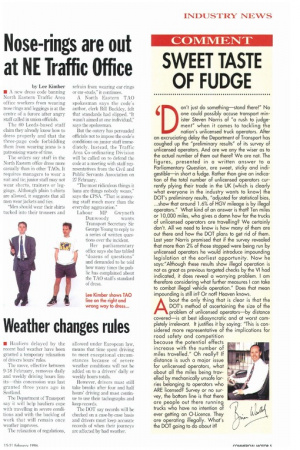 Page 7, 15th February 1996 —
Nose-rings are out at NE Traffic Office
Close
by Lee Kimber • A new dress code banning North Eastern Traffic Area office workers from wearing nose rings and leggings is at the centre of a furore after angry staff called in union officials.
The 60 Leeds-based staff claim they already know how to dress properly and that the three-page code forbidding them from wearing jeans is a patronising waste of time.
The orders say staff in the North Eastern office dress more casually than in other TA0s. It requires managers to wear a suit and tie; junior staff may not wear shorts, trainers or leggings. Although plain t-shirts are allowed, it suggests that all men wear jackets and ties.
"Men should wear their shirts tucked into their trousers and refrain from wearing ear-rings or ear-studs," it continues.
A North Eastern TAO spokesman says the code's author, clerk Bill Buckley, felt that standards had slipped. "It wasn't aimed at one individual," says the spokesman.
But the outcry has persuaded officials not to impose the code's conditions on junior staff immediately. Instead, the Traffic Area Co-ordinating Division will be called on to defend the code at a meeting with staff representatives from the Civil and Public Servants Association on 27 February.
"The most ridiculous things it bans are things nobody wears." says the CPSA. "That is annoying staff much more than the everyday aggravation" Labour MP Gwyneth Dunwoody wants Transport Secretary Sir George Young to reply to a series of written questions over the incident.
Her parliamentary office says she has tabled "dozens of questions" and demanded to be told how many times the public has complained about the TAO staffs standard of dress.