Mileage used to pick out illegal operators
15th February 1996
Page 6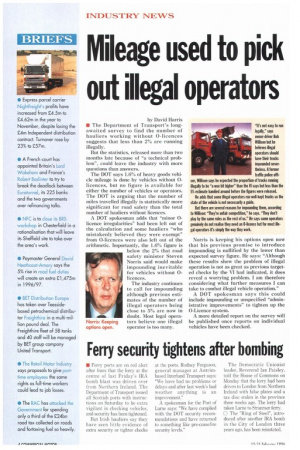 Page 6, 15th February 1996 —
Mileage used to pick out illegal operators
Close
Keywords :
by David Harris • The Department of Transport's longawaited survey to find the number of hauliers working without 0-licences suggests that less than 2% are running illegally.
But the statistics, released more than two months late because of "a technical problem", could leave the industry with more questions than answers.
The DOT says 1.6% of heavy goods vehicle mileage is done by vehicles without 0licences, but no figure is available for either the number of vehicles or operators. The DOT is arguing that the number of miles travelled illegally is statistically more significant for road safety than the total number of hauliers without licences.
A DOT spokesman adds that "minor 0licence irregularities" had been left out of the calculation and some hauliers "who mistakenly believed they were exempt" from 0-licences were also left out of the arithmetic. Importantly, the 1.6% figure is below the 2% that road safety minister Steven Norris said would make impounding inevitable for vehicles without 0licences.
The industry continues to call for impounding although previous estimates of the number of illegal operators being close to 5% are now in doubt. Most legal operators believe one illegal operator is too many. Norris is keeping his options open now that his previous promise to introduce impounding is nullified by the lower than expected survey figure. He says: "Although these results show the problem of illegal operation is not as great as previous targeted checks by the VI had indicated, it does reveal a worrying problem. I am therefore considering what further measures I can take to combat illegal vehicle operation."
A DOT spokesman says this could include impounding or unspecified "administrative improvements" to tighten up the 0-Licence system.
A more detailed report on the survey will be published once reports on individual vehicles have been checked.