'We must persuade the public that we are doing an invaluable job'
15th February 1996
Page 56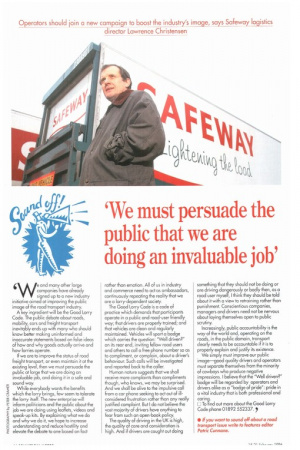 Page 56, 15th February 1996 —
'We must persuade the public that we are doing an invaluable job'
Close
e and many other large companies have already signed up to a new industry initiative aimed at improving the public image of the road transport industry. A key ingredient will be the Good Lorry Code. The public debate about roads, mobility, cars and freight transport inevitably ends up with many who should know better making uninformed and inaccurate statements based on false ideas of how and why goods actually arrive and how lorries operate.
If we are to improve the status of road freight transport, or even maintain it at the existing level, then we must persuade the public at large that we are doing an invaluable job, and doing it in a safe and sound way.
While everybody wants the benefits which the lorry brings, few seem to tolerate the lorry itself. The new enterprise will inform politicians and the public about the job we are doing using leaflets, videos and speak-up kits. By explaining what we do and why we do it, we hope to increase understanding and reduce hostility and elevate the debate to one based on fact rather than emotion. All of us in industry and commerce need to act as ambassadors, continuously repeating the reality that we are a lorry-dependent society. The Good Lorry Code is a code of practice which demands that participants operate in a public and road-user friendly way; that drivers are properly trained; and that vehicles are clean and regularly maintained. Vehicles will sport a badge which carries the question: "Well driven?" on its rear end, inviting fellow road users and others to call a free phone number so as to compliment, or complain, about a driver's behaviour. Such calls will be investigated and reported back to the caller. Human nature suggests that we shall receive more complaints than compliments though, who knows, we may be surprised. And we shall be alive to the impulsive call from a car phone seeking to act out of illconsidered frustration rather than any really justified complaint. But I do not believe the vast majority of drivers have anything to fear from such an open-book policy. The quality of driving in the UK is high, the quality of care and consideration is high. And if drivers are caught out doing something that they should not be doing or are driving dangerously or badly then, as a road user myself, I think they should be told about it with a view to retraining rather than punishment. Conscientious companies, managers and drivers need not be nervous about laying themselves open to public scrutiny. Increasingly, public accountability is the way of the world and, operating on the roads, in the public domain, transport clearly needs to be accountable if it is to properly explain and justify its existence. We simply must improve our public image—good quality drivers and operators must separate themselves from the minority of cowboys who produce negative impressions. I believe that the "Well driven?" badge will be regarded by operators and drivers alike as a "badge of pride": pride in a vital industry that is both professional and caring. LI To find out more about the Good Lorry Code phone 01892 552337.