Trading places
15th February 1996
Page 52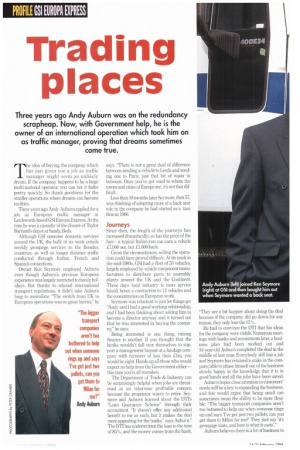 Page 53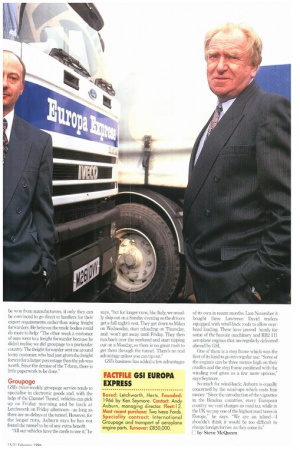 Page 52, 15th February 1996 —
Trading places
Close
rhe idea of buying the company which as just given you a job as traffic manager might seem an unlikely dream. If the company happens to be a large multi-national operator, you can bet it fades pretty quickly. So thank goodness for the smaller operations where dreams can become realities.
Three years ago Andy Auburn applied for a job as European traffic manager at Letchworth-based GSI Europa Express. At the time he was a casualty of the closure of Taylor Barnard's depot at Sandy, Beds.
Although GSI operates domestic services around the UK, the bulk of its work entails weekly groupage services to the Benelux countries, as well as longer distance traffic conducted through Italian, French and Spanish connections.
Owner Ken Seymore employed Auburn even though Auburn's previous European experience was largely restricted to family holidays. But thanks to relaxed international transport regulations, it didn't take Auburn long to assimilate: "The switch from UK to European operations was no great barrier," he
says. "There is not a great deal of difference between sending a vehicle to Leeds and sending one to Paris, just that bit of water in between. Once you've got used to where the towns and cities of Europe are, it's not that difficult.
Less than 18 months later Seymore, then 57, was thinking of adopting more of a back seat role in the company he had started as a taxi firm in 1966.
Since then, the length of the journeys has increased dramatically; so has the price of the fare—a typical Italian run can earn a vehicle £1,000 out, but £1,600 back.
Given the circumstances, selling the operation could have proved difficult. At its peak in the mid-1980s, GSI had a fleet of 35 vehicles, largely employed by vehicle component manufacturers to distribute parts to assembly plants around the UK and the Continent. These days local industry is more service based, hence a contraction to 12 vehicles and the concentration on European work.
Seymore was reluctant to just let things go: "Andy arid I had a good working relationship, and I had been thinking about asking him to become a director anyway and it turned out that he was interested in buying the company," he says.
Being interested is one thing, raising finance is another. If you thought that the banks wouldn't fall over themselves to support a management buyout at a haulage company with turnover of less than Lim, you would be right. Hands up all those who would expect no help from the Government either— this time you're all mistaken.
The Department of Trade & Industry can be surprisingly helpful when jobs are threatened at an otherwise profitable concern because the proprietor wants to retire. Seymore and Auburn learned about the DTI's "Loan Guarantee Scheme" through their accountant. "It doesn't offer any additional benefit to me as such, but it makes the deal more appealing for the banks," says Auburn." The DTI has underwritten the loan to the tune of 85%, and the money comes from the bank. "They are a bit happier about doing the deal because if the company did go down for any reason, they only lose the 15%.
He had to convince the DTI that his ideas for the company were viable. Numerous meetings with banks and accountants later, a business plan had been worked out and 34-year-old Auburn completed the deal in the middle of last year. Everybody still has a job and Seymore has retained a stake in the company, able to phase himself out of the business slowly, happy in the knowledge that it is in good hands and all the jobs have been saved.
Auburn hopes close attention to customers' needs will be a key to expanding the business, and few would argue that being small can sometimes mean the ability to be more flexible: "The bigger transport companies aren't too bothered to help out when someone rings up and says 'I've got just two pallets, can you get them to Milan for me?' They just say 'it's groupage mate, and here is what it costs'."
Auburn believes there is a lot of business to be won from manufacturers, if only they can be convinced to go direct to hauliers for their export requirements, rather than using freight forwarders. He believes the trade bodies could do more to help: The other week a customer of ours went to a freight forwarder because he didn't realise we did groupage to a particular country. The freight forwarder sent me around to my customer, who had just given the freight forwarder a larger percentage than the job was worth. Since the demise of the 1-form, there is little paperwork to be done."
GSI's twice-weekly groupage service tends to specialise in electronic goods and, with the help of the Channel Tunnel, vehicles can pick up on Friday morning and be back at Letchworth on Friday afternoon—as long as there are no delays at the tunnel. However, for the longer runs, Auburn says he has not found the tunnel to be of any extra benefit.
"All our vehicles have the cards to use it," he
says, "but for longer runs, like Italy, we usually ship out on a Sunday evening so the drivers get a full night's rest. They get down to Milan on Wednesday, start reloading on Thursday, and won't get away until Friday. They then run back over the weekend and start tipping out on a Monday so there is no great rush to get them through the tunnel. There's no real advantage unless you can tip out."
GSI's business has added a few advantages
of its own in recent months. Last November it bought three Lawrence David trailers equipped with wind-back roofs to allow overhead loading. These have proved handy for some of the heavier machinery and RB2 111 aeroplane engines that are regularly delivered abroad by GSI.
One of them is a step-frame which was the first of its kind to go into regular use: "Some of the engines can be three metres high on their cradles and the step frame combined with the winding roof gives us a few more options," says Seymore.
So much for wind-back; Auburn is equally concerned by the wind-ups which costs him money. "Since the introduction of the vignettes in the Benelux countries, every European country we visit charges us road tax while in the UK we pay one of the highest road taxes in Europe," he says. "We are an island—I shouldn't think it would be too difficult to charge foreign lorries as they come in."
by Steve McQueen