CITROEN
15th February 1996
Page 50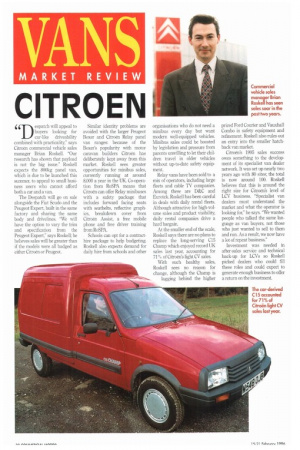 Page 50, 15th February 1996 —
CITROEN
Close
gg espatch will appeal to
buyers looking for car-like driveability combined with practicality," says Citroen commercial vehicle sales manager Brian Roskell. "Our research has shown that payload is not the big issue." Roskell expects the 800kg panel van, which is due to be launched this summer, to appeal to small business users who cannot afford both a car and a van.
The Despatch will go on sale alongside the Fiat Scudo and the Peugeot Expert, built in the same factory and sharing the same body and drivelines. "We will have the option to vary the trim and specification from the Peugeot Expert," says Roskell; he believes sales will be greater than if the models were all badged as either Citroen or Peugeot. Similar identity problems are avoided with the larger Peugeot Boxer and Citroen Relay panel van ranges: because of the Boxer's popularity with motor caravan builders Citroen has deliberately kept away from this market. Roskell sees greater opportunities for minibus sales, currently running at around 8,000 a year in the UK. Co-operation from RoSPA means that Citroen can offer Relay minibuses with a safety package that includes forward facing seats with seatbelts, reflective graphics, breakdown cover from Citroen Assist, a free mobile phone and free driver training from RoSPA.
Schools can opt for a contracthire package to help budgeting Roskell also expects demand for daily hire from schools and other organisations who do not need a minibus every day but want modern well-equipped vehicles. Minibus sales could be boosted by legislation and pressure from parents unwilling to let their children travel in older vehicles without up-to-date safety equipment.
Relay vans have been sold to a mix of operators, including large fleets and cable TV companies. Among these are D&C and Eurotek. Roskell has been careful in deals with daily rental fleets. Although attractive for high-volume sales and product visibility, daily rental companies drive a hard bargain.
At the smaller end of the scale, Roskell says there are no plans to replace the long-serving C15 Champ which enjoyed record UK sales last year, accounting for 710/ of Citroen's light CV sales.
With such healthy sales, Roskell sees no reason for change, although the Champ is lagging behind the higher priced Ford Courier and Vauxhall Combo in safety equipment and refinement. Roskell also rules out an entry into the smaller hatchback van market.
Citroen's 1995 sales success owes something to the development of its specialist van dealer network It was set up nearly two years ago with 80 sites; the total is now around 100. Roskell believes that this is around the right size for Citroen's level of LCV business. "Specialist van dealers must understand the market and what the operator is looking for," he says. "We wanted people who talked the same language as van buyers, not those who just wanted to sell to them and run. As a result, we now have a lot of repeat business."
Investment was needed in after-sales service and technical back-up for LCVs so Roskell picked dealers who could fill these roles and could expect to generate enough business to offer a return on the investment