Signed, sealed, delivered
15th February 1996
Page 49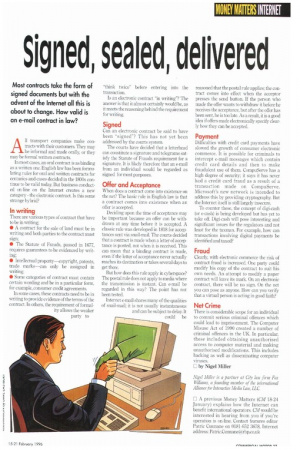 Page 49, 15th February 1996 —
Signed, sealed, delivered
Close
Keywords :
Contract Law
,
Contract
,
Statute Of Frauds
,
Mailbox Rule
,
Compuserve
,
Credit Card Fraud
,
Credit Card
,
Seal
,
Oral Contract
,
Futures Contract
,
Offer And Acceptance
,
English Contract Law
AII transport companies make contracts with their customers. They may be informal and made orally, or they may be formal written contracts.
In most cases, an oral contract is as binding as a written one. English law has been formulating rules for oral and written contracts for centuries and cases decided in the 1800s continue to be valid today. But business conducted on-line on the Internet creates a new category the electronic contract. Is this some strange hybrid?
There are various types of contract that have to be in writing; • A contract for the sale of land must be in writing and both parties to the contract must sign; • The Statute of Frauds, passed in 1677, requires guarantees to be evidenced by writing: • Intellectual property—copyright, patents, trade marks—can only be assigned in writing; • Some categories of contract must contain certain wording and be in a particular form, for example, consumer credit agreements. In some cases, these contracts need to be in writing to provide evidence of the terms of the contract. In others, the requirement of formality allows the weaker party to "think twice" before entering into the transaction.
Is an electronic contract "in writing"? The answer is that it almost certainly would be, as it meets the reasoning behind the requirement for writing.
Can an electronic contract be said to have been "signed"? This has not yet been addressed by the courts system.
The courts have decided that a letterhead can constitute a signature and telegrams satisfy the Statute of Frauds requirement for a signature. It is likely therefore that an e-mail from an individual would be regarded as signed for most purposes.
When does a contract come into existence on the net? The basic rule in English law is that a contract comes into existence when an offer is accepted.
Deciding upon the time of acceptance may be important because an offer can be withdrawn at any time before it is accepted. A classic rule was developed in 1818 for acceptances sent via snail-mail. The courts decided that a contract is made when a letter of acceptance is posted, not when it is received. This can mean that a binding contract is made, even if the letter of acceptance never actually reaches its destination or takes several days to get there.
But how does this rule apply in cyberspace? The postal rule does not apply to media where the transmission is instant. Can e-mail be rewarded in this way? The point has not been tested.
Internet e-mail shares many of the qualities of snail-mail; it is not usually instantaneous and can be subject to delay. It could be reasoned that the postal rule applies; the contract comes into effect when the acceptor presses the send button. If the person who made the offer wants to withdraw it before he receives the acceptance, but after the offer has been sent, he is too late. As a result, it is a good idea if offers made electronically specify clearly how they can be accepted.
Difficulties with credit card payments have slowed the growth of consumer electronic commerce. It is possible for criminals to intercept e-mail messages which contain credit card details and then to make fraudulent use of them. CompuServe has a high degree of security; it says it has never had a credit card fraud as a result of a transaction made on CompuServe. Microsoft's new network is intended to address this by providing cryptography. But the Internet itself is still largely insecure.
To counter these, the concept of digi-cash (or e-cash) is being developed but has yet to take off. Digi-cash will pose interesting and significant issues for the regulators and not least for the taxman. For example, how can transactions involving digital payments be identified and taxed?
Clearly, with electronic commerce the risk of contract fraud is increased. One party could modify his copy of the contract to suit his own needs. An attempt to modify a paper contract will leave its mark. On an electronic contract, there will be no sign. On the net you can pose as anyone. How can you verify that a virtual person is acting in good faith?
There is considerable scope for an individual to commit serious criminal offences which could lead to imprisonment. The Computer Misuse Act of 1990 created a number of criminal offences in the UK. In particular, these included obtaining unauthorised access to computer material and making unauthorised modifications. This includes hacking as well as disseminating computer viruses.
by Nigel Miller Nigel Miller is a partner at City law firm Fox Williams, a founding member of the international Alliance for Interactive Media Law, LLC E A previous Money Matters (CM 18-24 January) explains how the Internet can benefit international operators. CM would be interested in hearing from you if you're operation is on-line. Contact features editor Patric Cunnane on 0181-652 3678, Internet address: Patric.Cunnanegrbp.co.uk