FORMULA FOUR
15th February 1996
Page 32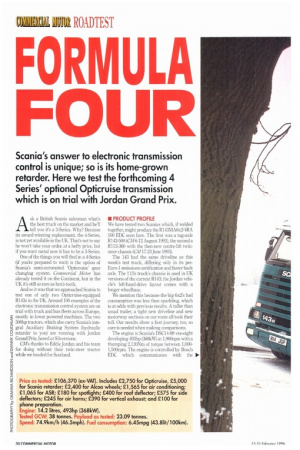 Page 34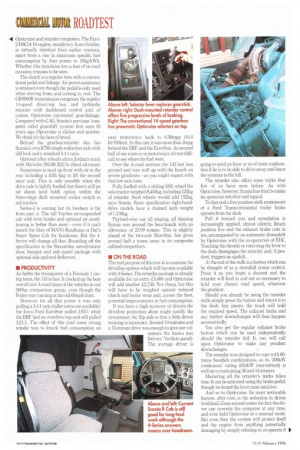 Page 36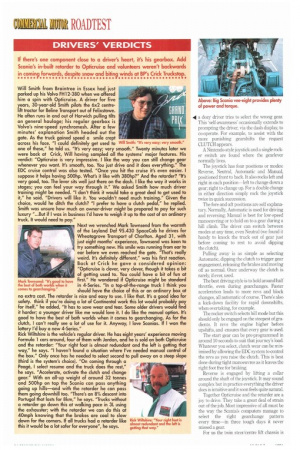 Page 37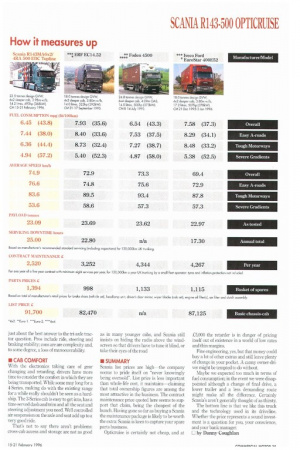 Page 32, 15th February 1996 —
FORMULA FOUR
Close
Ask a British Scania salesman what's the best truck on the market and he'll tell you it's a 3-Series. Why? Because its award-winning replacement, the 4-Series, is not yet available in the UK. That's not to say he won't take your order, at a hefty price, but if you want metal now it has to be a 3-Series.
One of the things you will find in a 4-Series (if you're prepared to wait) is the option of Scania's semi-automated 'Opticruise' gear changing system. Commercial Motor has already tested it on the Continent, but in the UK it's still as rare as hen's teeth.
And so it was that we approached Scania to test one of only two Opticruise-equipped R143s in the UK. Around 100 examples of the electronic transmission control system are on trial with truck and bus fleets across Europe, mostly in lower powered machines. The two 500hp tractors, which also carry Scania's integral Auxiliary Braking System (hydraulic retarder to you) are running with Jordan Grand Prix, based at Silverstone.
CNis thanks to Eddie Jordan and his team for doing without their twin-steer tractor while we headed for Scotland.
• PRODUCT PROFILE
We have tested two Scanias which, if welded together, might produce the R1431V1A6x2/4RA 500 EDC seen here. The first was a tag-axle R143-500 (CM6-12 August 1992), the second a R113-360 with the then-new centre-lift twinsteer chassis (CM 17-23 June 1993).
The 143 had the same driveline as this week's test truck, differing only in its preEuro-1 emissions certification and faster back axle. The 113's truck's chassis is used in UK versions of the current R143; the Jordan vehicle's left-hand-drive layout comes with a longer wheelbase.
We mention this because the big 6x2's fuel consumption was less than sparkling, which is at odds with previous results. A taller than usual trailer, a tight new driveline and new motorway sections on our route all took their toll. Our results show a fast journey, too, so care is needed when making comparisons.
The engine is Scania's DSC14-09 vee-eight developing 493hp (3681N at 1,900rpm with a thumping 2,130Nm of torque between 1,0001,50Orpm. The engine is controlled by Bosch EDC which communicates with the Ow • Opticruise and retarder computers. The Euro2 DSC14-16 engine, mandatory from October, is virtually identical from earlier versions, apart from a rise in minimum specific fuel consumption by four points to 195g/kWh. Whether this translates into a loss of on-road economy remains to be seen.
The clutch is a regular item with a conventional pedal and linkage. Air power-assistance is retained even though the pedal is only used when moving from, and coming to, rest. The GRS900R transmission comprises the regular 14-speed direct-top box and hydraulic retarder with dashboard control and, of course, Opticruise automated gear-linkage. Compared with CAG, Scania's previous 'computer aided gearshift' system first seen 10 years ago, Opticruise is slicker and quicker. We think its the best of breed.
Behind the gearbox/retarder duo lies Scania's own R780 single-reduction axle with diff-lock and a standard 3.4:1 ratio.
Optional alloy wheels adorn Jordan's truck with Michelin 295/80 R22.5s fitted all-round.
Suspension is steel up front with air at the rear including a fifth bag to lift the second steer axle. This is only possible when the drive axle is lightly loaded, but there's still an air dump (and hold) option within the three-stage dash mounted rocker switch to aid traction.
Series-4 is coming but its forebear is far from past it. The tall Topline air-suspended cab with twin bunks and optional air conditioning is better than most—even if it can't match the likes of MAN's Roadhaus or Daf's Super Space Cab for headroom. But the 4Series will change all that. Rounding off the specification is the Streamline aerodynamic door, bumper and side panel package with optional side and roof deflectors.
As befits the transporter of a Formula 1 racing team, the 143 is fast. It clocked up the best overall and A-road times of the vehicles in our 500hp comparison group, even though the Foden was running at the old 60mph limit.
However, for all that power it was only pulling a 3.4:1 ratio (taller ratios are available): the Iveco Ford EuroStar pulled 2.93:1 while the ERF had an overdrive top and still pulled 3.21:1. The effect of this (and some strong winds) was to knock fuel consumption on easy motorways back to 6.36mpg (44.4 lit/1001m). At this rate it was more than 2mpg behind the ERF and the EuroStar. As around half of our route is on motorways, it's not difficult to see where the fuel went.
Over the A-road sections the 143 lost less ground and was well up with the bunch on severe gradients—as you might expect with that low axle ratio.
Fully fuelled with a sliding fifth wheel the solo tractor weighed 8,410kg, including 125kg of retarder. Steel wheels would add 152kg, says Scania. Basic specification right-handdrive models have a claimed kerb weight of 7,478kg.
Payload-wise our all singing, all dancing Scania was around the benchmark with an allowance of 23.09 tonnes. This is slightly ahead of the two-axle EuroStar, but gives around half a tonne away to its composite cabbed competitors.
The real purpose of this test is to examine the driveline options which will become available with 4-Series. The retarder package is already available for an extra £5,000 and Opticruise will add another £2,750. Not cheap, but this will have to be weighed against reduced clutch and brake wear and, across the fleet, potential improvements in fuel consumption.
If you have a high turnover of drivers the driveline protection alone might justify the investment; the flip side is that a little driver training is necessary. Around 10 minutes and a 15-minute drive was enough to give our volunteers the basics (see Drivers' Verdicts panel). The average driver is going to need an hour or so of static explanation if he is to be able to drive away and learn the systems to the full.
The retarder also offers some tricks that few of us have seen before. As with Optimise, however, Scania has tried to make its operation intuitive and logical.
To that end a five-position stalk reminiscent of a Ford Transcontinental trailer brake sprouts from the dash.
Pull it toward you and retardation is increasingly applied, almost silently. Reach position five and the exhaust brake cuts in too, accompanied by an automatic downshift by Opticruise with the co-operation of EDC. Touching the throttle or returning the lever to the dash disengages the retarder and, if prudent, triggers an upshift.
At the end of the stalk is a button which can be thought of as a downhill cruise control. Press it as you begin a descent and the retarder will feed in and out as necessary to hold your chosen road speed, whatever the gradient.
Should you already be using the retarder stalk simply press the button and return it to the dash: hey presto, the truck will hold the required speed. The exhaust brake and any further downchanges will then happen automatically.
You also get the regular exhaust brake button which can be used independently should the retarder fail. It, too, will call upon Opticruise to make any prudent downchanges.
The retarder was designed to cope with 60tonne Swedish combinations, so its '300kW continuous' rating (650kW intermittent) is well up to restraining 38 and 44-tonners Mastering all the retarder's tricks takes time. It can be activated using the brake pedal, though we found the lever more intuitive.
And so to Opticruise. Its most noticeable feature, after cost, is the reduction in driver workload. Close second comes the fact the driver can override the computer at any time, and even hold Opticruise in a manual mode. But even then the system will protect itself and the engine from anything potentially damaging by simply refusing to co-operate if
a dozy driver tries to select the wrong gear. This 'self-awareness' occasionally extends to prompting the driver, via the dash display, to co-operate. For example, to assist with the more punishing gearshifts the request CLUTCH appears.
A Nintendo-style joystick and a single rocker switch are found where the geartever normally lives.
The joystick has four positions or modes: Reverse, Neutral, Automatic and Manual, positioned front to back. It also rocks left and right in each position—left to change down a gear; right to change up. For a double change in either direction simply rock the joystick twice in quick succession.
The fore-and.aft positions are self explanatory. Normally, Automatic is used for driving and reversing; Manual is best for low-speed manoeuvring or to hold on to a gear during a hill climb. The driver can switch between modes at any time, even Neutral (we found it handy to knock the truck out of gear just before coming to rest to avoid dipping the clutch).
Pulling away is as simple as selecting Automatic, dipping the clutch to trigger gear engagement, releasing the brakes and moving off as normal. Once underway the clutch is rarely, if ever, used.
The best driving style is to hold around half throttle, even during gearchanges. Faster acceleration leads to more revs and block changes, all automatic of course. There's also a kick-down facility for rapid downshifts, when overtaking, for example.
The rocker switch selects hill mode but this should only be engaged on the steepest of gradients. It revs the engine higher before upshifts, and ensures that every gear is used.
The start gear can be pre-programmed in around 10 seconds to suit that journey's load. Whatever you select, clutch wear can he minimised by allowing the EDC system to control the revs as you raise the clutch. This is best done during tight manoeuvres as it leaves the right foot free for braking.
Reverse is engaged by lifting a collar around the shaft of the joystick It may sound complex but in practice everything the driver does is intuitive and it soon feels quite natural.
Together Opticruise and the retarder are a joy to drive. They take a great deal of strain out of the job. Most impressive of all must be the way the Scania's computers manage to select the right gearchange pattern every time—in three tough days it never missed a gear.
For us the twin steer/centre lift chassis is just about the best answer to the tri-axle tractor question. Pros include ride, steering and braking stability; cons are are complexity and, to some degree, a loss of manoeuvrability With the electronics taking care of gear changing and retarding, drivers have more time to consider the comfort in which they are being transported. While some may long for a 4-Series, making do with the existing range for a while really shouldn't be seen as a hardship. The 3-Series cab is easy to get into, has a time-served dash and trim and all the seat and steering adjustment you need. Well controlled air suspension on the axle and seat add up to a very good ride.
That's not to say there aren't problems: cross-cab access and storage are not as good as in many younger cabs, and Scania still insists on hiding the radio above the windscreen so that drivers have to tune it blind, or take their eyes of the road Scania list prices are high-the company seems to pride itself on "never knowingly being oversold". List price is less important than whole-life cost, it maintains-claiming that total ownership figures are among the most attractive in the business, The contract maintenance price quoted here seems to support that claim, being the cheapest of the bunch. Having gone so far as buying a Scania the maintenance package is likely to be worth the extra: Scania is keen to capture your spare parts business.
Optiauise is certainly not cheap, and at £5,000 the retarder is in danger of pricing itself out of existence in a world of low rates and thin margins.
Fine engineering, yes, but that money could buy a lot of other extras and still leave plenty of change in your pocket. A canny owner-driver might be tempted to do without.
Maybe we expected too much in terms of fuel consumption; in the event we were disappointed although a change of final drive, a lower trailer and a less demanding route might make all the difference. Certainly Scania's aren't generally thought of as thirsty.
The bottom line is that we like this truck and the technology used in its driveline. Whether the price represents a sound investment is a question for you, your conscience, and your bank manager.
L by Danny Coughlan