W hy is it that every operator and driver has to
15th February 1996
Page 31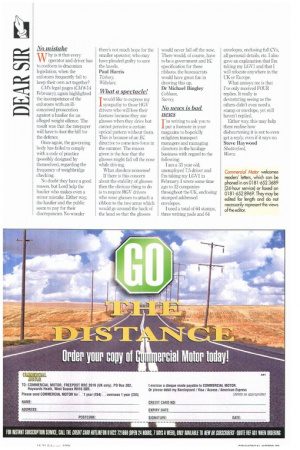 Page 31, 15th February 1996 —
W hy is it that every operator and driver has to
Close
conform to draconian legislation, when the enforcers frequently fail to keep their own act together?
CM's legal pages (CM 8-14 February), again highlighted the incompetence of the enforcers with an illconceived prosecution against a haulier for an alleged weight offence. The result was that the ratepayer will have to foot the bill for the defence.
Once again, the governing body has failed to comply with a code of practice (possibly designed by themselves), regarding the frequency of weighbridge checking.
No doubt they have a good reason, but Lord help the haulier who makes even a minor mistake. Either way, the haulier and the public seem to pay for their discrepancies. No wonder there's not much hope for the smaller operator; who may have pleaded guilty to save the hassle.
Paul Harris Tisbury.
Wiltshire.
What a spectacle!
Iwould like to express my sympathy to those NOV drivers who will lose their licences because they use glasses when they drive but cannot perceive a certain optical pattern without them. This is because of an EC directive to come into force in the summer. The reason given is the fear that the glasses might fall off the nose while driving.
What absolute nonsense!
If there is this concern about the stability of glasses then the obvious thing to do is to require HGV drivers who wear glasses to attach a ribbon to the two arms which would go around the back of the head so that the glasses
would never fall off the nose. There would, of course, have to be a government and EC specification for these ribbons, the bureaucrats would have great fun in drawing this up, Dr Michael Bingley Cobham, Surrey.
No news is bad news
I'm writing to ask you to put a footnote in your magazine to hopefully enlighten transport managers and managing directors in the haulage business with regard to the following:
I am a 33 year old, unemployed 7.5 driver and I'm taking my EGV1 in February I wrote some time ago to 32 companies throughout the UK, enclosing stamped addressed envelopes.
I used a total of 64 stamps, three writing pads and 64
envelopes, enclosing full (Ns, all personal details, etc. I also gave an explanation that I'm taking my LGV1 and that I will relocate anywhere in the UK or Europe.
What annoys me is that I've only received FOUR replies. It really is devastating seeing as the others didn't even need a stamp or envelope, yet still haven't replied.
Either way, this may help them realise how disheartening it is not to even get a reply, even if it says no. Steve Haywood Shatterybrd, Worcs.